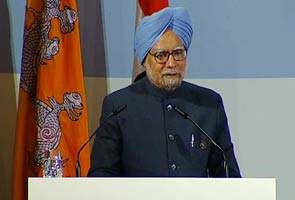 Addu, Maldives:
Prime Minister Manmohan Singh in his address to the 17th SAARC Summit has stressed on better economic cooperation in South Asia.
Here is the full text of the Prime Minister's speech:
"I am delighted to be here in the Maldives - a country of breathtaking beauty. There can be no better setting for our Summit than this exquisite Addu Atoll. I convey our deep appreciation to the Government and people of Maldives for the excellent arrangements and their warm hospitality.
I wish to join my other distinguished colleagues in congratulating you, Mr. President, on your election as the Chairperson of SAARC. We look forward to your dynamic leadership of our organization. I assure you of India's full cooperation.
I wish to thank His Excellency the Prime Minister of Bhutan for his exemplary stewardship of SAARC as the outgoing Chairman.
As someone who has had the privilege of attending the last four Summits of SAARC, I can see the impressive progress we have made as an organization in recent years. The momentum and scope of our cooperation have undoubtedly increased. Since our last Summit alone, our Ministers of External Affairs, Home, Finance, Transport, Tourism, Commerce, Energy and Environment have met. Greater exchanges and communication among ourselves should be followed by concrete outcomes.
In my discussions with the leaders of South Asia, I sense today a collective commitment and desire to give greater meaning and content to SAARC. Admittedly, there is a lot to be done but the political will is there. We have all come to believe that regional cooperation in South Asia is good for each one of our countries.
I reaffirm that India will do whatever is within our capabilities to make SAARC an effective instrument to deliver on our vision of common peace, shared prosperity and cooperation in South Asia.
Our Summit takes place at a time when the global economy is under acute stress. This has imposed a fresh and entirely uncalled for burden on our development efforts. We hope that the leaders of the major economies, particularly those in the Eurozone, will show the wisdom and will that are required to revive the global economy.
However, the world economy is going to take time to recover. In the meantime developing countries like ours will be squeezed for capital, investments and markets for our exports.
We should seek imaginative ways to create new avenues and sources of growth and investment in South Asia, and this is indeed an imperative necessity. I believe, if we can create favourable conditions for development at home, there is no reason why our investors should seek greener pastures elsewhere. The complete normalization of trade relations in SAARC will create huge opportunities for mutually beneficial trade within South Asia.
We should work to create a climate whereby the wealth generated by us is invested back into our own region of South Asia. This will be the most ringing endorsement of our collective vision of a regional economy without boundaries.
There are promising signs that South Asia is increasingly getting plugged into the growth dynamic of Asia. Despite all the difficulties, we have been able to maintain a respectable growth rate in the last few years.
This encouraging trend has coincided with the growing pace of integration of SAARC. This shows that we are on the right path.
I believe the process should move much faster, though at a pace we are all comfortable with. I recognize that India has a special responsibility that flows from the geography of our region and the state of our economy and market.
I am happy to announce that, in a major trade liberalization effort, the Government of India has issued a notification to reduce the Sensitive List for the Least Developed Countries under the South Asian Free Trade Area Agreement from 480 tariff lines to just 25 tariff lines. Zero basic customs duty access will be given to all items removed with immediate effect.
I recognize that non-tariff barriers are an area of concern. India is committed to the idea of free and balanced growth of trade in South Asia. Competition begins at home. Our industries have to learn to compete if our economies are to have a future in this globalised world that we live in.
We can all benefit from our respective comparative advantages. These include our hydropower and natural resource endowments, possibilities of earnings from transit, marine resources, our scientific and technological base and above all our youthful population which will drive consumption and investment in the years ahead.
We should expedite the finalization of the SAARC Agreement on Investment flow.
The theme of this year's Summit is "Building Bridges". This eloquently summarizes the imperative of greater regional integration, and is an objective to which India is fully committed. One such initiative taken last year was the launch of the South Asia Forum that has brought together eminent South Asians from different walks of life about the future cooperation in South Asia.
In our Summit in Dhaka in 2005, I had suggested a reciprocal initiative to provide unrestricted access to airlines from SAARC States to our four metropolitan cities, and to 18 other destinations in India. Connectivity has partially improved since then. But we must take this further.
We should aim to conclude a regional Air Services Agreement, for which India would be happy to host a meeting of officials next year.
We have been talking of a Regional Railway Agreement and a Motor Vehicle Agreement for a long time. Let us agree to conclude these agreements as a matter of priority. India, Maldives and Sri Lanka are in the process of developing regional ferry services. We should replicate many more such connectivity arrangements in other parts of our sub-continent.
I commend the Postal Administrations of SAARC countries for agreeing to establish a South Asian Postal Union. India is happy to host the ad hoc Secretariat for the Union, and to sponsor training courses at our Postal Staff College to train upto ten SAARC officials per year, belonging to interested Member Countries.
I suggest, we follow up this agreement by improving our telecommunication linkages to reduce call rates and telecommunication tariffs and interconnection termination charges. India will be ready to facilitate the development of a regional telecommunications infrastructure to improve the quality of connectivity for our economies.
We should encourage greater broadcasting, television and film exchanges among our countries. It is time that we overcome the information deficit among the SAARC countries. We should encourage our people to know more about each other.
In this spirit, I wish to announce the following initiatives that India will take.
We will host a conclave of the top dozen tour operators from the SAARC region to boost tourism exchanges.
We will take the initiative to establish a travelling exhibition on the ancient history of South Asia. This could comprise a hundred archeologically-significant pieces per country to be selected by member States. The exhibition can be hosted in each of our national museums in turn for a period of three months.
Post-graduate courses in the South Asian University have started in July 2010. India will increase the number of SAARC Silver Jubilee Scholarships for the South Asian University from 50 to 100. 75 of these 100 scholarships will be at the Masters level and 25 at the doctoral level.
Protecting our environment even as we pursue rapid growth is essential and Prime Minister Thinley has made a very eloquent presentation on the concept of sustainable development. The India Endowment for Climate Change which I had announced last year has been established. We look forward to receiving project proposals from our SAARC partners.
We will provide a total of ten scholarships per year to SAARC Member States for post-graduate and doctoral studies in forestry courses at the Forestry Research Institute of India, Dehradun.
The destiny of South Asia lies in our own hands. SAARC provides a unique platform for us to put aside our differences and work towards a higher calling. We have a long way to go, but I am confident that we can realize our true potential through sustained effort.
We have to learn to trust each other and to learn from each other. The security and stability of our countries are closely interlinked. None of us can prosper in isolation to each other. We cannot afford to allow the many problems we face to stand in the way of our ambitions and our dreams.
Let us challenge ourselves to do even better. I thank you."