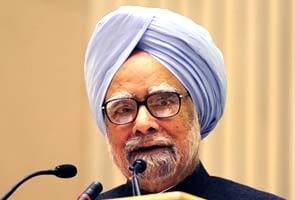 New Delhi:
Prime Minister Manmohan Singh on Friday condoled the death in an accident of former union minister and senior Telugu Desam Party (TDP) leader Yerran Naidu and described him as a "distinguished parliamentarian and personality".
"I have learned with profound sorrow about the tragic demise of Yerran Naidu in a road accident. In his death, we have lost a distinguished Parliamentarian and political personality who made a valuable contribution to public life in Andhra Pradesh and India," the Prime Minister said.
"My heart goes out in sympathy to the members of the bereaved family" he added.
Yerran Naidu, 55, was killed when the car he was travelling in hit an oil tanker ahead of it near Ranasthalam in Srikakulam district, about 700 km from Hyderabad, around 2 a.m.
A profusely bleeding Naidu was shifted to the Rajiv Gandhi Institute of Medical Sciences (RIMS) in Srikakulam town, where doctors failed in their efforts to resuscitate him. He was declared dead around 3.30 a.m.
He served as union minister for rural development and employment in the United Front government from 1996 to 1998.