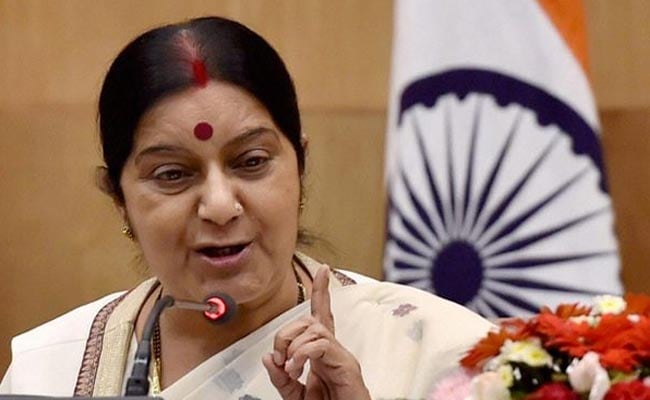 Highlights
The BJP is expected to name their presidential candidate later this month
BJP's Venkaiah Naidu expected to meet Sonia Gandhi and Sharad Pawar
There is strong buzz Foreign Minister Sushma Swaraj is the frontrunner
New Delhi:
The government's move of reaching out for a consensus candidate to succeed President Pranab Mukherjee has given pause to the opposition, which had been scouting for its own candidate. What can divide them further is a name - Sushma Swaraj.
Though there is no official confirmation, a strong buzz is on that the external affairs minister is the front-runner in the race to the Rashtrapati Bhavan. Ms Swaraj commands great respect across party lines for her focus on her work. Her quick responses, wit and helpful attitude has brought her much affection from social media users.
While other names are doing the rounds - among them Social Justice Minister Thawar Chand Gehlot, Lok Sabha speaker Sumitra Mahajan and Jharkhand Governor Draupadi Murmu - the decision depends on Prime Minister Narendra Modi. The party is expected to name its candidate later this month after a meeting between a BJP core group and Prime Minister Narendra Modi.
The opposition had initially blamed the government for not taking the first step in building consensus. Now
Amit Shah's initiative
- the panel with three heavyweight Central ministers - has divided their ranks. While a section -- the Left in particular - is inclined towards a contest, others are in favour of a wait and watch policy.
The team has moved fast. Union minister Venkaiah Naidu has already spoken to six parties and sought appointments with Congress chief Sonia Gandhi, NCP chief Sharad Pawar, BSP's Mayawati and CPM's Sitaram Yechury.
Formal discussions are expected to begin tomorrow with Mrs Gandhi and Mr Yechury. Mr Pawar has opted for further talks, though TDP chief N Chandrababu Naidu has said he would back PM Modi's decision.
The opposition's wishlist for a consensus candidate includes a non-RSS background and a respect for the constitution. The candidate, the parties say, must also command respect, since the President serves as the Supreme Commander of the Armed Forces.
The government is expected to fast-track the decision as sources say PM Modi wants to be present for filing of nomination of the government candidate before he departs for Washington on June 25.
This is the first time the BJP is in a comfortable position to win the Presidential election. Its candidate in 2002, APJ Abdul Kalam, was a consensus candidate as it did not have sufficient numbers to win the election.
For complete coverage on Presidential elections, click
here
.