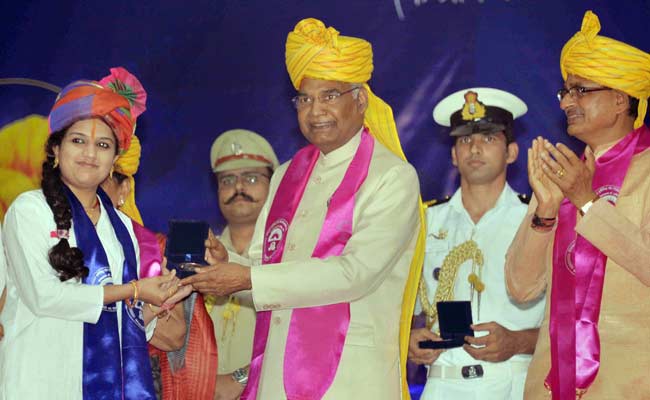 Sagar:
President Ram Nath Kovind today hailed the rising dominance of daughters in the country as a positive social change.
He was addressing the 27th convocation of the Dr Harisingh Gour Vishwavidyalaya in Sagar, Madhya Pradesh.
"The dominance of daughters in the country has started rising. This is a good social change. It is now becoming the order of the day. It will brighten the country's future," he said.
"Due to this social change, people have started saying in jest that the reservation being provided to women for their empowerment would prove to be pointless in the times to come, and now boys might start demanding quota for themselves," the president said.
"Out of the 53 students who were given medals today, the number of girls was more than the boys. A total of 32 girls got medals. Also out of 11 students who were given degrees (on stage), 10 were girl students," he said.
On education, President Kovind said it was not merely a mechanism to gain knowledge and employment, but a tool to make people self-reliant and enhance their capacities.
"This helps an educated person in creating opportunities for others, and become a job provider instead of a job seeker," he said.
President Kovind also lauded the setting up of an entrepreneurship cell at the Dr Harisingh Gour Vishwavidyala.
"It will help students in transforming ideas into business ventures," he said.
He also appreciated the university's efforts in promoting modern techniques to increase the production of mushrooms in nearby villages.
The president also described the university as an important centre for higher education in Madhya Pradesh, particularly in the Bundelkhand region.
"Due to the huge presence of SC and ST communities in this region, the role of this university in building capacities in the society and contributing towards development becomes even more important," he said.
Madhya Pradesh Governor Anandiben Patel, Chief Minister Shivraj Singh Chouhan and Union Minister of State for HRD Satyapal Singh were also present at the event.
Later in the day, President Kovind attended Satguru Kabir Saheb Mahotsav in Sagar, organised to commemorate the 620th Pragatosav of Satguru Kabir.