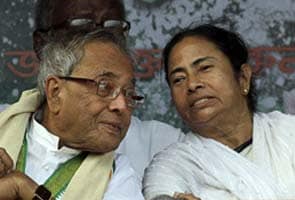 New Delhi:
Finance Minister Pranab Mukherjee, running for President of India, reportedly called a member of Mamata Banerjee's Trinamool Congress (TMC) today to ask for his support. Renegade MP Kabir Suman allegedly agreed to his request. Ms Banerjee's party is upset with that phone call.
Trinamool MP Derek O'Brien tweeted saying, "Pranab M directly called up a TMC MP seeking support. Politically ethical to do? Or trying to break TMC? Try & try again. Won't break." TMC minister Subrata Mukherjee described Mr Mukherjee's action as "condemnable" and said the Finance Minister should have spoken directly to Ms Banerjee.
That could be awkward. Ms Banerjee is currently estranged from the UPA, which is led by Mr Mukherjee's Congress party. She chose to reject Mr Mukherjee as the UPA's candidate, and ran an aggressive campaign for a new term for President Abdul APJ Kalam. However, Mr Kalam announced on Monday that he would not enter the contest.
The Congress has been reaching out to Ms Banerjee, asking her to come around to supporting the Finance Minister. She allegedly wants to abstain during the election on July 19. Her party holds about 4% of the vote.
However, given Mr Mukherjee's stature as a tall leader from Bengal, many within Ms Banerjee's party are reportedly keen on voting for him in the election.
Mr Suman, who Mr Mukherjee phoned today, wrote a song criticising Ms Banerjee's government after a professor was arrested in April for emailing a cartoon that mocked the chief minister. He had also defended another TMC leader, Dinesh Trivedi, who was fired as Railways Minister for announcing an increase in passenger fares. Mr Trivedi was removed by the PM at the insistence of Ms Banerjee. He remains a member of her party.