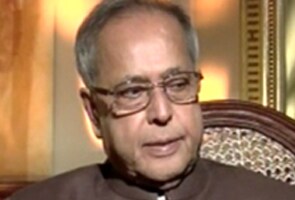 New Delhi:
Pranab Mukherjee, who has rejected seven mercy petitions against death sentences in the seven months that he has been President, is unlikely to accept more recommendations on mercy pleas from the Home Ministry, sources have said.
The President has reportedly told the ministry to review any more mercy petitions from death row convicts that it might have lined up for his consideration. There are nine mercy petitions pending a decision, some for many years now.
The President, who took over in July last year, rejected the mercy pleas of Ajmal Kasab, the lone Pakistani terrorist caught during the 26/11 attacks in Mumbai, in November 2012 and Saibanna Ningappa Natikar on January 4, 2013. Natikar, a resident of Karnataka, is accused of murdering his wife and daughter in 1994.
Kasab was hanged in a Pune jail in December and Guru was executed this month at Delhi's Tihar Jail.
Mr Mukherjee also rejected the mercy petition of Afzal Guru, convicted for the attack on Parliament in 2001, on February 9.
Mr Mukherjee also rejected the mercy petitions of four aides of sandalwood smuggler Veerappan earlier this month. The Supreme Court is, however, hearing their petition against the death sentence and said today that they cannot be hanged for at least six more weeks, till their case is decided by the Chief Justice of India.
The four men were given the death sentence in 2004 for killing 22 police officers in Karnataka in a landmine blast in 1993 and had moved filed their mercy petitions the same year. Their lawyers have argued in the Supreme Court that the nine-year delay by the President's office in deciding their appeal for clemency is inhumane, and that their sentence should be commuted to life imprisonment.
The hangings of Afzal Guru and Ajmal Kasab have provoked severe criticism from human rights groups.