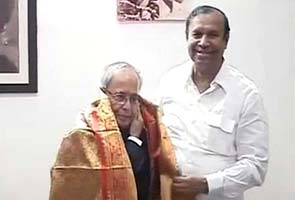 New Delhi:
As Pranab Mukherjee gets ready to move to the Rashtrapati Bhavan as the 13th President of India, key UPA ally, the DMK says that Mr Mukherjee will be missed in the alliance.
"We will be missing him very much," DMK leader TR Baalu told reporters outside Mr Mukherjee's residence.
"My leader K Karunanidhi, and my party as a whole, is delighted to hear that Pranab Mukherjee has won the elections," he said.
Mr Baalu was speaking after meeting Mr Mukherjee at his residence in New Delhi.
He, however, added that the DMK was "delighted" that Mr Mukherjee will be the President of the country.