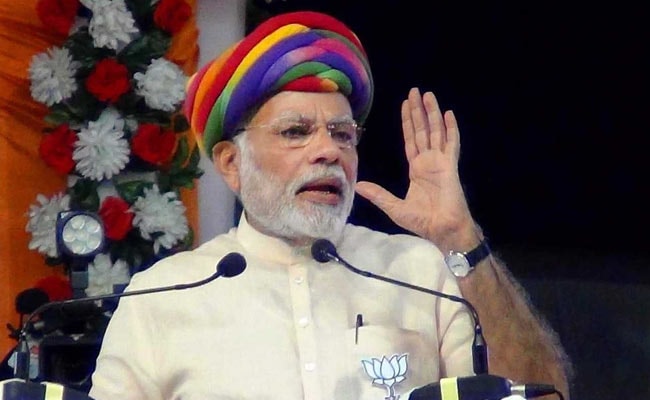 Highlights
BJP will get 105-106 seats, shows poll of opinion polls
Congress will better its performance, get 73-74 seats: opinion polls
The Congress had won 61 seats in 2012, BJP had won 115
New Delhi:
A poll of opinion polls that aggregates three surveys ahead of the Gujarat Assembly elections, shows the BJP getting 105-106 of the state's 182 seats, well over the halfway mark of 92 the party needs to form government a fifth consecutive time, but a smaller margin of victory than last time.
The aggregate of three opinion polls shows the Congress settling for the opposition benches again with 73-74 seats.
The India TV opinion poll predicts that the BJP will get between 106 and 116 seats, the upper end of which range will mean the party bettering its tally last time by one. The Times Now survey shows the BJP getting 111 seats while the ABP-CSDS opinion poll predicts the lowest tally for Gujarat's ruling party at between 91 and 99 seats.
All three opinion polls show the Congress bettering last time's performance, with India TV predicting that the party will win between 63 and 73 seats, Times Now giving it 68 seats and the ABP-CSDS poll showing a close battle, predicting the Congress will get 78-86 seats.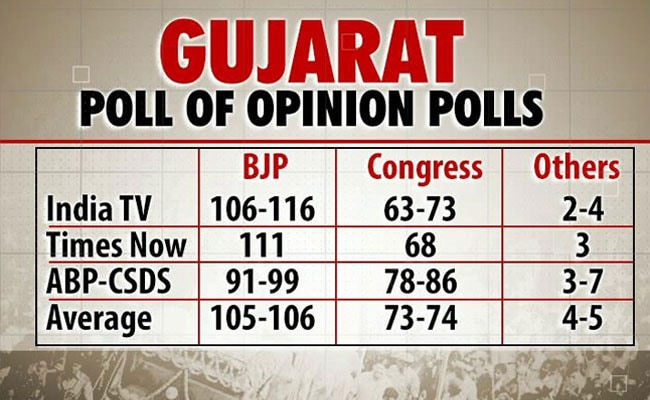 The Congress had won 61 seats in 2012. The BJP had won 115. The party has been in power in Gujarat, the home state of both Prime Minister Narendra Modi and BJP chief Amit Shah, for the last 22 years.
Amit Shah has set his party a target of winning an unprecedented 150 seats in Gujarat this time - the BJP's best performance so far was 127 seats in 2002 - but the election is seen as one of the toughest contests in the state for years.
Rahul Gandhi, who is set to be Congress president, has campaigned hard in his attempt to wrest power from the BJP, also strategically partnering with young caste leaders like Hardik Patel, the face of the Patel quota agitation, and backward caste (OBC) leader Alpesh Thakore, who joined the Congress weeks before the elections.
After its sweep of key state Uttar Pradesh earlier this year, retaining Gujarat is a crucial part of the BJP's plans as it preps for the 2019 national election, when PM Modi will seek a second term. The Prime Minister, who is on a campaign blitz and set to address 30 rallies in two weeks, has pitched the Gujarat election as a contest between "
vikaswaad
(development)" and "
vanshwaad
(dynasty)," an attack on Mr Gandhi, who has been elected unopposed to be Congress chief in place of his mother.
Gujarat votes in two phases starting Saturday, when elections will be held for 89 seats. Voting will be held in the remaining 93 seats on December 14. Results will be announced on December 18, along with those for Himachal Pradesh, which voted in November.