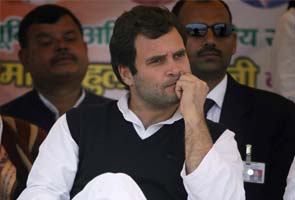 New Delhi:
Rahul Gandhi told Congress parliamentarians today, "The Prime Minister's post is not my priority. I believe in long-term politics."
What began as an informal chat with a few fellow MPs in Parliament's Central Hall, soon had over a 100 excited members gathered around him as he talked for more than an hour, talking about his goals, his grandmother and even his marriage plans.
There has been much speculation both within his party and outside over whether Mr Gandhi, 42, will be named as the Congress's nominee for Prime Minister ahead of next year's national election.
In January, he was formally anointed Vice-President of the Congress, though for years, he has been treated as the second-most influential member of the party; the first is his mother, Sonia, who is Congress president.
Mr Gandhi, who has in the past told Congress leaders to refrain from Rahul-for-PM chanting, said his focus is strengthening his party. He did not comment on who would be named PM if the Congress should return to power for a third term, but reiterated that power in the Congress must be decentralised; his family's complete control over the party has been described and criticised as "the high command culture" of the Congress. Mr Gandhi said that must change.
Congress spokesman Rashid Alvi did not seem to have received Mr Gandhi's message. Only a little after Mr Gandhi had spoken to party MPs, Mr Alvi said a press conference, "Rahul Gandhi is the high command."
In words to show that the change Mr Gandhi says he wants will not come easy, Mr Alvi said, "Rahul Gandhi may not want the post of PM and wants to sacrifice it, but the workers and the party want him. They desire that he become PM."
The main Opposition party, the BJP, has so far not confirmed if it will announce Gujarat Chief Minister Narendra Modi as its presumptive candidate for prime minister. Mr Modi's popularity within his party was on naked display this past weekend at a conclave of senior BJP leaders and thousands of workers, who shouted slogans in his support. In a one-hour speech, Mr Modi was on trend as he tore into the Gandhis, accusing the Congress of "sacrificing national interest for the interest of one family."