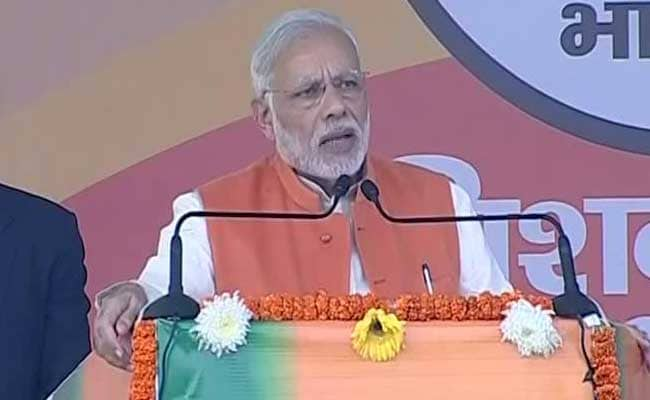 Highlights
Prime Minister is "bahut bade maldar" (very wealthy): Mayawati
Non-BJP-ruled states being discriminated in supply of new notes: BSP
PM Modi claimed that he is hounded for battle against corruption
Lucknow:
Hours after Narendra Modi claimed he is a "fakir, the prime minister's comments drew sharp reactions from the opposition.
Bahujan Samaj Party chief Mayawati reacted saying the Prime Minister is "bahut bade maldar" (very wealthy) and wondered how a "well-wisher of the affluent" can be a hermit.
"Woh dhannasetho ko sanrakshan dene wale hain, woh fakir nahi, bahut bade maldar hain (He protects affluents people. he is not a hermit. He is very wealthy)," she said.
At BJP's Parivartan Rally in Moradabad, PM Modi had said that he is not worried about criticisms by his political opponents on his government's decision to ban 500 and 1,000-rupee notes.
"I am being hounded as if I have committed some crime by waging a battle against graft. But, what can my opponents do to me? I am a fakir (hermit)...jhola ley kar chaley jayenge (I will exit with my little belongings)," he said.
The PM's comments also drew reaction from Delhi Chief Minister Arvind Kejriwal. "Modi ji you (call yourself) a fakir? Everyday, you wear four new pairs of clothes, you wear a Rs 10 lakh suit and tour the world. People have lost trust in your words," Mr Kejriwal
tweeted.
The BSP chief also attacked PM Modi for claiming demonetisation was aimed at ending corruption and said "90 per cent commoners" have been subjected to immense hardships because of the "dictatorial attitude" of the PM.
"BSP will oppose tooth and nail all wrong decisions of the Modi government both inside and outside Parliament," Mayawati said.
She also alleged non-BJP-ruled states are being discriminated against in supply of new notes.