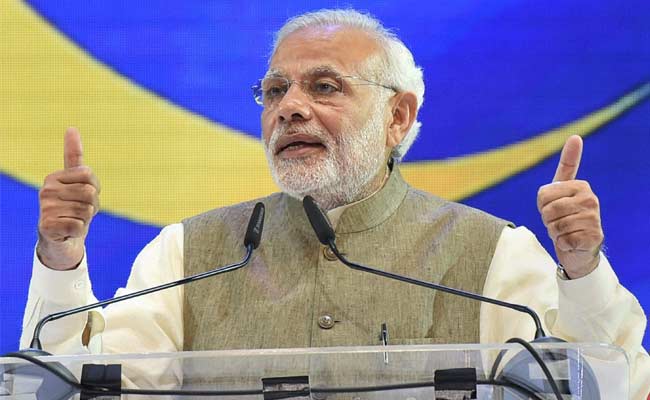 Highlights
PM Modi made an announcement on Tuesday to ban 500 and 1,000 rupee notes
New 500 and 2,000 rupee notes will be available in ATMs from tomorrow
This step is taken to eradicate black money and corruption from India
New Delhi:
In a bold move against
corruption and unaccounted wealth
, Prime Minister Narendra Modi has acted to arrest the drift in his popularity and place constraints on election funding, which will benefit him in crucial state elections next year.
But
Modi's late-night announcement of a crackdown on unaccounted wealth
through the withdrawal of high-denomination bank notes left Indians with little time to prepare for the impact of the most extensive anti-graft operation in almost four decades.
With 500 ($7.50) and 1,000 rupee notes banned
as of midnight Tuesday until the government begins circulating new notes, including a 2,000 rupee note, those who operate in India's extensive cash economy were struggling with the simplest transactions.
At a roadside shop in the state of Uttar Pradesh, a heated argument broke out over a small packet of chips and a 1,000 rupee note. Even the offer of extra money to accept the now banned note could not change the young shopkeeper's mind.
Mohamed Zafar said he has turned away many customers carrying the worthless bank notes, echoing the concerns of other small traders in the state, which goes to the polls early next year.
"Because of the Uttar Pradesh elections, the government has done this," said Zafar. "Maybe it will be tough for one year, then the black money will start again, and because of the
new 2,000 rupee note
there will be even more black money."
Sales Downturn
Scenes like this played out across India, but even as small businesses, shopkeepers and restaurants experienced an immediate downturn in sales, many praised Modi's push to battle corruption and said it could boost support for his Bharatiya Janata Party.
Coming just before state elections, the timing of the move is critical. So-called
black money is often used to fund political campaigns
, particularly by smaller, regional parties who entice voters with cash, said Milan Vaishnav, a senior associate with the Carnegie Endowment for International Peace in Washington. Larger parties distribute political favors to businesses who pay campaign expenses directly, avoiding the use of cash.
Political test
Having won the 2014 election in a landslide on the promise of tackling corruption and improving the ease of doing business, Modi's star had started to fade as he faced criticism he only implemented incremental reforms. That election was dubbed the most expensive in Indian history with the government, political parties and candidates spending 300 billion rupees, according to estimates from the New Delhi-based Centre for Media Studies.
"Modi has succeeded in arresting the decline in his personal popularity and that of the BJP, which will serve well in coming elections in Uttar Pradesh, Uttarakhand, Goa and Punjab," said Satish Misra, an analyst at the New Delhi-based Observer Research Foundation.
He's also put serious constraints on election funding, positioning the BJP ahead of rivals who will face significant shortfalls, he said.
Worst hit would be regional parties like the Samajwadi Party, Bahujan Samaj Party, Rashtriya Lok Dal in Uttar Pradesh and Shiromani Akali Dal in Punjab, Misra said, noting that the opposition Congress party would be less affected.
There is a strong a sense that successive governments have done little to tackle corruption, said Sandeep Shastri, an author and pro-vice chancellor at Jain University in Bengaluru.
'Unaccounted Wealth'
"This step needs to be part of a basket of measures to deal with unaccounted wealth and the parallel black money economy. In isolation, it would do precious little," he said.
"The BJP can now make it a major election plank. This measure will be billed as a crucial step in fighting corruption, a sentiment that is likely to strike a chord especially with the lower and middle classes."
Yet Congress was critical of the measure's impact on regular Indians.
"If you look at India's cash economy, a substantial portion of Indians do not have bank accounts. And the small businesses, shopkeepers, housewives, hawkers, operate on cash." said Sanjay Jha, a party spokesman. "The real culprits have stashed money abroad. They buy gold, property or they stash it away in foreign tax havens."
Speaking to the state broadcaster Doordarshan News on Wednesday,
Finance Minister Arun Jaitley said he wanted the country to go cashless
.
Cashless or not, the government will have to deal with the potential deflationary impact on the economy, said Ajit Ranade, chief economist at the Aditya Birla Group.
"For the success of this decision, the government will have to make sure that the execution is flawless -- the new notes are made available, bank branches and ATMs are stocked. If this is done, this decision will definitely improve the health of the Indian economy."
"I believe this was an audacious decision, it was Modi's Pokharan moment," he said, referring to the nuclear test that the Vajpayee government executed in 1998.
(Except for the headline, this story has not been edited by NDTV staff and is published from a syndicated feed.)