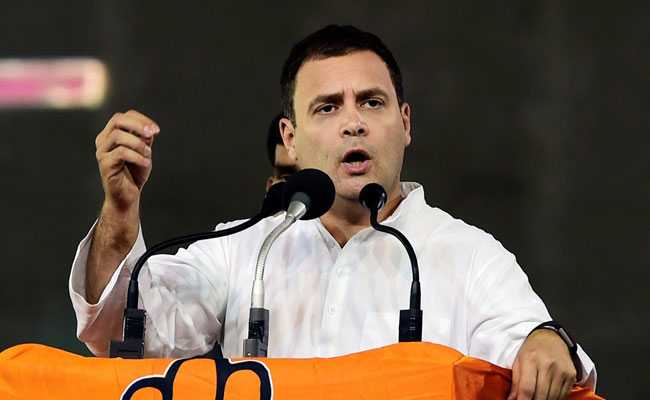 Kurnool, Andhra Pradesh:
Congress president Rahul Gandhi, on Tuesday, said that Prime Minister Narendra Modi was a 'chowkidar' who opens the door and lets thieves in.
Addressing a public meeting in Andhra Pradesh's Kurnool, Mr Gandhi said that if PM Modi was a real 'chowkidar' he would have sacked Finance Minister Arun Jaitley for "allowing fugitive businessman Vijay Mallya to leave" the country.
According to news agency IANS, Rahul Gandhi alleged that PM Modi did not sack Arun Jaitley because "he himself was corrupt." The Congress chief cited the Rafale deal in support of his allegation.
Rahul Gandhi claimed that after becoming the Prime Minister, Narendra Modi changed the contract signed during the previous UPA government to buy 126 fighter jets. He alleged that the price for each jet was increased to Rs 1,600 crore from Rs 526 crore decided earlier.
Mr Gandhi further alleged that the contract was snatched from Hindustan Aeronautics Ltd (HAL), which had 70 years experience of making aircraft, and given to a private company.
He said Arun Jaitley himself admitted that Vijay Mallya "met" him and told him that he was leaving the country. "The only possibility is that the Finance Minister allowed (Vijay) Mallya to leave the country in exchange for something. There was a deal between them," the congress chief alleged.
Speaking on, Mr Gandhi claimed that demonetisation and the Goods and Services Tax (GST) were aimed at taking money from people's pocket and putting them in the pockets of some of the richest businessmen.
Alleging that the Modi government erased non-performing assets of Rs 1.3 lakh crore of the richest people, Rahul Gandhi promised that if voted to power in 2019, farm loan waiver will be the first thing the Congress would do.
Addressing the public meeting and earlier interacting with students, Mr Gandhi alleged that PM Modi was disrespecting the people of Andhra Pradesh by breaking all promises made to Andhra Pradesh during bifurcation.
Mr Gandhi promised that should the Congress come to power, the Congress would immediately accord special category status to Andhra Pradesh as per the commitment made by the government of India when unified Andhra Pradesh was split in 2014.