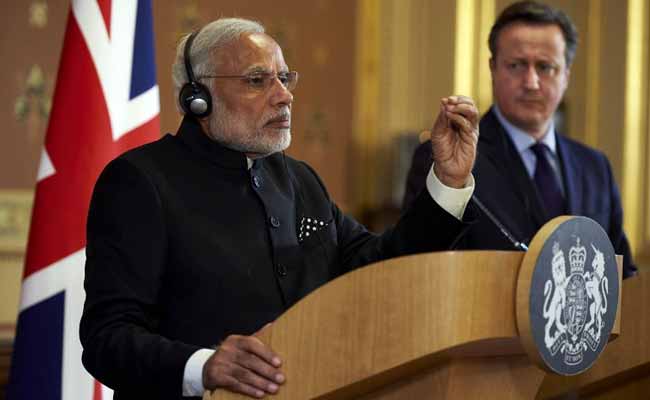 London:
Indo-UK political and economic ties were boosted by Prime Minister Narendra Modi's recent visit in London, the Indian High Commissioner has said.
India's High Commissioner to the UK Ranjan Mathai, who was speaking at the Diwali Banquet organised by the Bharatiya Vidya Bhavan last night, described Modi's visit as "spectacular".
"This visit has given a greater thrust to political and cultural relations and boost to trade and investment between the two countries," Mr Mathai said.
PM Modi visited the UK from November 12-14 during which a lunch with Queen Elizabeth II and a host of engagements with his British counterpart David Cameron formed part of his hectic schedule.
Referring to UK's decision to declare 2017 as UK-India Year of Culture, Mr Mathai said the Bharatiya Vidya Bhavan would have a central role to play to make the year a success.
MP and Speaker of The House of Commons John Bercow, who was the Chief Guest, said it was a "personal privilege" for him to invite Prime Minister Modi to address British MPs and Lords in the Parliament House.
Lauding Indian democracy, he said "in a country of certain size democracy cannot be created and if created it can not be sustained. But India has proved to be a stable and vibrant democracy for the last 68 years."
G P Hinduja, Co-Chairman of the Hinduja Group, said "we can be proud of the achievements of the Bharatiya Vidya Bhavan in promoting India's art and culture."
Referring to Mr Mathai's tenure in London, Mr Hinduja said "Mathai is a quiet worker. He has done a fantastic job in the UK."
Joginder Sanger, Chairman of the Bhavan, said "the Bhavan in London is the largest institute for Indian Art and Culture outside India. We foster the talents of young musicians and dancers as well showcase performances and exhibitions by top artists, at the Bhavan."
He praised Dr Nandakumara, Executive Director, and his team for making the Bharatiya Vidya Bhavan an outstanding and successful institution of Art and Culture of India.