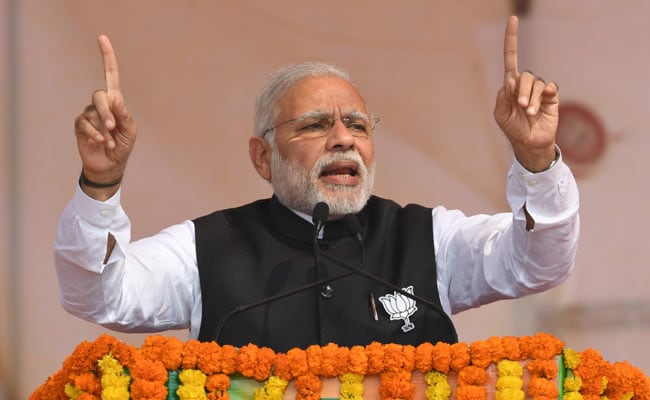 Lucknow:
As he attacked Chief Minister Akhilesh Yadav, Prime Minister Narendra Modi referred twice today to a
UP government website
that records, "Life in Uttar Pradesh is short and uncertain." The Prime Minister was addressing public rallies in eastern UP, where the last two rounds of assembly elections will be held in the next few days.
"Akhilesh Yadav says his work speaks for itself... the UP government website admits life in UP is short and uncertain and that in this respect UP resembles Saharan Africa," the Prime Minister said. He wagered that, "UP officers will face action as soon as I finish my speech."
PM Modi has dug deep into the official website of the UP government to unearth tragic figures that are perfunctorily featured in a section on the state's economy. The "short and uncertain" reference is under health, where the state government says that women on an average live less than 55 years in UP and that the mortality rate for children under five years is a high 141 in every thousand. It makes the comparison to Saharan Africa and admits that "If a girl is born in Kerala she can expect to live 20 years longer than if she is born in Uttar Pradesh."
The UP government also says on its website, "Almost all social indicators of the state show that the state stands on 13th or 14th position among the sixteen major states. Bihar and in some cases Orissa, are the only two states which lag behind UP in terms of social development indicators like medical facilities, teacher-pupil ratio in primary schools, birth rate, death rate, infant mortality rate, literacy, per capita income, electrification of villages, per capita power consumption etc.
The Prime Minister has in his election speeches lambasted the Samajwadi Party and Mayawati's Bahujan Samaj Party, who have ruled UP by turns in the last 15 years, for what he calls a total neglect of the development of the state and its people. The BJP, PM Modi said in Maharajgunj near Gorakhpur today, wants to work for the people of UP. "When you look at India's map, you might have seen that when it comes to India and its development, it has to be holistic. Development has to be well-rounded."
He accused the Akhilesh Yadav government of not spending central funds on development. "1.5 crore people in UP don't have houses. Our government wanted the list of homeless people from the UP government but didn't get the list," the Prime Minister said, adding, "This kind of government must be defeated."
The BJP, the Prime Minister said, "is leading till the 5th phase and the 6th and 7th phase will be bonus from you all." The question, he said, was not who would form government, "but whether the BJP will win a two-thirds majority or a three-fourths majority.
Five rounds of voting have been held in the UP assembly elections, seen as a semi-final before the national election in 2019. After two more rounds of polling, votes will be counted on March 11.