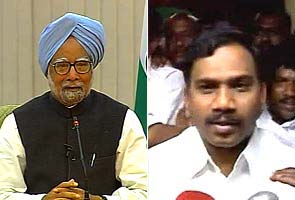 New Delhi:
Prime Minister Manmohan Singh today asserted he was not aware of the methodology of the controversial first-come-first-serve (FCFS) policy followed for 2G spectrum allocation by former Telecom Minister A Raja, which resulted in a huge scam estimated to be up to Rs 1.76 lakh crore.
"Who got the licences... how FCFS was implemented...this was never discussed with me nor was it brought to the Cabinet. This was exclusively Telecom Minister's decision," Singh said in an interaction with the editors from the electronic media.
(Watch: Prime Minister's Q&A with Editors)

He, however, said that since the Ministries of Finance and Telecom had agreed to continue with the existing policy of allocating 2G spectrum, "I did not feel that I was in a position to insist that auction must be insisted."
(Read: Highlights of PM's meet with Editors)
The government's auditor CAG had estimated a presumptive loss of up to Rs 1.76 lakh crore due to sale of spectrum in 2008 at 2001 prices.
(Read: What is 2G spectrum scam?)
This had forced Raja to resign from the Union Cabinet in November last year and was followed by his arrest on spectrum 2G scam charges.
(Read: Who is A Raja?)
On retaining Raja as the Telecom Minister in the UPA-II, the Prime Minister said in a coalition government, the choices of the leaders of the alliance partners have to be accepted and that the DMK had suggested Raja and Dayanidhi Maran for the Union Cabinet.
"At that moment, there was no reason to feel that anything wrong had been done", the Prime Minister said.
Singh said in his letter to Raja in November 2007, one of the issues he asked him was to look at "the possibility of technical and legal angle of having an auction of spectrum".
"Mr Raja wrote back to me almost on the same day our letters crossed and he said I (Raja) have been absolutely transparent in my dealings and will be doing so in the future.
"You have my assurance that I have done nothing and will do nothing which will not be consistent with the promise that I make", Singh quoted Raja as replying to his letter.
"As far as auction is concerned, he came back to me and said auction is something which has not been suggested by Telecom Regulatory Authority of India (TRAI) and the Telecom Commission," the Prime Minister said.
"... he (Raja) also said that if we had auction it would not give a level-playing field for the new comers because the existing players have got the spectrum free of charge upto a certain mega hertz.
"And therefore he said the TRAI'S advice, the Telecom Commission's advice and his (Raja's) own view was that auctions are not the right way forward as far as 2G spectrum is concerned and he also mentioned in a subsequent letter that he is agreeable to auction 3G spectrum but with regard to 2G spectrum he was very clear that we should stay with the then existing approach", Singh said.
He said this was also discussed with the Finance Ministry because in terms of the Cabinet decision of 2003, the pricing and allocation of the spectrum was to be settled between the ministry of finance and the Telecommunication department.
"Initially, the Ministry of Finance did ask for a high price for 2G spectrum but after many discussions the two ministries agreed that as far as the 2G is concerned, they will have to live with the present system, especially with regard to the amount of spectrum built and embedded in the licence agreement," he added.
"So this is the background why I did not proceed with the matter of spectrum allocation because if the MoF and the Ministry of Telecom both agree and they have the obligation of the Cabinet of 2003 and also TRAI and Telecom Commission, since all of them were of the same view, I did not think it was right to insist that auction was the right way", Singh said.
On sale of spectrum by some companies after getting its allocation, Singh said he was not aware of their motives.
"I do not know, frankly speaking, what was the motivation of the people who got spectrum but I do know that as far as the basic policy is concerned that I thought was then the prevailing practice and Raja was continuing that policy.
"As far as who gets licence, the first-come-first-serve policy, how it is implemented, that was never discussed with me; licences were not a matter which ever got referred to me or the Cabinet. That was a decision exclusively of the Telecom Minister.
"Subsequent, events have shown that two companies (Swan and Unitech) sold their equity, but I was told that they have sold it in a manner to dilute equity of the promoters.
"Now, if they have to roll out the requirement and that money can be raised either by way of borrowings or by way of diluting equity by getting people, therefore, at that stage I did not think that I should intervene in that affair".