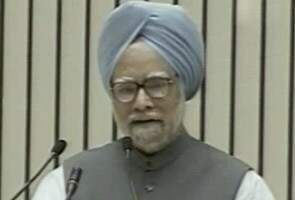 On Board PM's Special Plane:
Sounding optimistic on the India-China relations after his meeting with President Hu Jintao earlier this week, Prime Minister Manmohan Singh tonight expressed hope that the decision to set up a new bilateral mechanism on border management would bear "concrete results" in the near future.
Giving a sense of the meeting with Hu on Wednesday in Sanya, China, Singh said they had talked about a wide-range of issues, including trade imbalance and the Chinese President had agreed that his country too has a "responsibility" to deal with the problem.
"It was a very cordial meeting. We discussed bilateral issues and trade imbalance. We also discussed other relevant issues to international situation and possibility of cooperation between our two countries in international fora like G-20, WTO and UN Security Council," he told accompanying journalists while returning from a five-day two-nation tour of China and Kazakhstan.
Singh and Hu met on the sidelines of the Brazil-Russia-India-China-South Africa (BRICS) Summit and among its significant outcomes were the decision to send a high-level Indian military delegation to China and setting up of a new mechanism for managing peace on the borders.
With regard to defence exchanges which are set to be resumed after a pause of about nine months, Singh said, "my expectation is that they will be continued."
India had suspended high-level defence exchanges in July last year after China refused proper visa to the then Northern Army Commander Lt Gen B S Jaswal as he was serving in Jammu and Kashmir. This was seen by India as questioning its sovereignty.
About the new mechanism for border management, Singh said it was a Chinese proposal made during the visit of Premier Wen Jiabao to New Delhi in December last.
"This is work in progress. I hope some concrete results will be visible in the near future," he remarked.
On the issue of growing trade imbalance in favour of China, Singh said he had raised the issue with Hu, saying that India imports goods and services which gives rise to the imbalance and the Chinese President recognised that it was a "problem".
Referring to India's desire for greater access to Chinese markets, the Prime Minister said he had specifically mentioned two areas - pharmaceutical industry and IT -- where Chinese could do more.
"I can't say he (Hu) did say precisely about these two areas but he did say that he recognises that China also has a responsibility to tackle the problem of trade imbalance," Singh said.