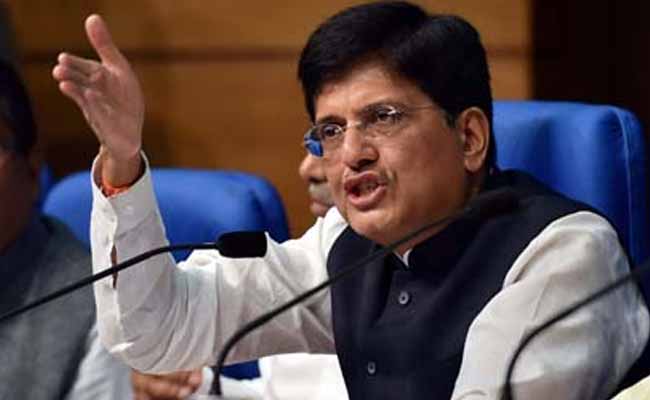 New Delhi:
Attacking the Western world for its "double standards" in tackling climate change, Power Minister Piyush Goyal today said there is a "gap" in what the "West" says and what it does on climate change.
"My concern is that there is a lot of gap in what is being said by the West and what is being delivered. There is no denying for the fact that for last 150 years, the West has enjoyed low-cost fossil fuels and developed their economies," Mr Goyal said.
Most of the western world survived on coal. The coal consumption in the US, in per capita terms, is as much as India consumes in 2016. Today, in absolute numbers also, with one-fourth of population of India, the US consumes over 2-2.5 times more coal than the world's largest democracy, he added.
"So, it is not as if the inconvenient truth came out very late. We knew this truth 50 years ago also. New South Wales University started developing solar technologies 45 years ago.
"So, I think the reality is that West waited till it found cheaper sources of energy. Till shale gas become affordable, it kept talking about the inconvenient truth," he said at an event jointly organised by World Bank's International Finance Corporation, Exim Bank, NSE and Institute of International Finance in New Delhi.
Mr Goyal, who also handles the portfolio of New and Renewable Energy and Coal, said the US keeps talking about the inconvenient truth, while at the same time India was doing convenient action.
"I would still urge the people of the US to recognise that when you talk about the world's two biggest challenges being terrorism and climate change, I think they need to go that extra mile to demonstrate their commitment," Mr Goyal said.
He further said: "I appealed to the US, when negotiations were going on, that we can keep renewable energy out of the WTO framework. After all we decided in Singapore that no country will put import duties on renewable energy, on solar products.
"I don't see any reason why the West could not show some magnanimity and keep renewables out of the WTO framework, particularly when Indian manufacturers had such a large heart and had withdrawn the anti-dumping request, which had been ruled in their (manufacturers) favour and could have imposed huge anti-dumping duties on the US."
Today, there are 16 state-run programmes in the US where the domestic industry is protected in solar equipment procurement and this "double standard" has to stop someday, the minister said.