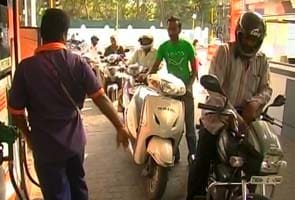 New Delhi:
Oil companies have cut petrol prices by Rs 2.46 per litre, starting midnight. The cut is based on global crude prices and the exchange rate of the rupee vs the dollar. The reduction in price varies from Rs. 2.46 per litre to Rs. 3.22 per litre, depending upon local taxes in different states.
Petrol now costs Rs 67.78 a litre in Delhi and 73.35 per litre in Mumbai. In other metros, Kolkata will pay 72.24 per litre and Chennai will pay Rs 72.27 per litre. Hyderabad and Bangalore saw the maximum reduction in petrol prices - Rs 3.22 per litre.
On May 23, India saw its steepest ever price hike of Rs 6.28 plus local taxes. This is the second reduction in petrol prices since that hike. On June 3, oil companies announced a reduction of Rs. 1.68 per litre in petrol prices, excluding taxes. In Delhi, after including 20 per cent VAT, the reduction was Rs. 2 a litre.
But West Bengal Chief Minister Mamata Banerjee warned that prices will be increased once the President election will be over. Ms Banerjee, who has in the past attacked the government for allowing oil companies to raise petrol prices, said "The price of crude oil has decreased by Rs 100. The price of petrol should have been cut by Rs 10 to Rs 30 per litre." The West Bengal Chief Minister is a member of the UPA but has been estranged from the coalition over its decision to field Pranab Mukherjee as its candidate for President of India. (
Read more
)
Even after today's reduction, there exists a scope for cutting rates by a further Rs. 1 per litre as current revision was done at average international oil rate in the first fortnight of June. Global oil prices have fallen by eight per cent since then.
State-owned oil firms have abandoned the practice of revising rates of petrol on the 1st and 16th of every month and from now on will do so on any date so as to deter petrol pump dealers building positions.
Petrol pumps at some places run dry as owners stop taking supplies from companies if a reduction in price is anticipated. Similarly, if an increase in rate is expected, pump dealers start hoarding supplies.
Indian Oil Corp, the nation's largest fuel retailer, said the three oil firms are projected to lose a record Rs 151,000 crore in revenue on sale of diesel, domestic LPG and kerosene, whose rates have not been revised in past one year.
The existing and revised selling prices for metros are given below: