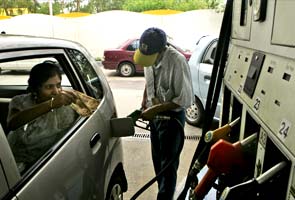 New Delhi:
Oil companies have decided to increase petrol prices by Rs 1.82 per litre with effect from midnight tonight. This is the fourth hike in prices this year.
Petrol will now cost Rs. 68.84 a litre in Delhi, Rs. 71.16 a litre in Chennai, Rs. 73.71 in Mumbai, Rs. 71.98 in Kolkata and Rs. 75.64 in Bangalore.
The BJP has reacted swiftly, slamming the government - BJP spokesperson Rajiv Pratap Rudy said, "It's not just another fuel price hike, it's another instance of midnight deceit." And senior leader Sushma Swaraj tweeted as news of the hike came, "Petrol price hiked again - another blow to the common man from an insensitive Government."
UPA ally Trinamool Congress is upset over the hike. The party's general secretary Mukul Roy told PTI, "We are unhappy over the hike of petrol price." The party's parliamentary party will meet in Kolkata on Friday, a formal response is expected after that.
Terming hike in petrol price as anti-people, Uttar Pradesh Chief Minister Mayawati has demanded its immediate rollback.
In a statement, the BSP supremo said that the hike of the petrol prices "is a cruel joke on the people of the country".
The three major state-owned oil companies - Indian Oil, HPCL and Bharat Petroleum - had last hiked petrol prices by Rs 3.14 a litre on September 16. Prices were first raised this year by Rs 3.5 per litre on January 16 and by Rs 5 per litre on May 15.
The government had in June last year deregulated, or freed, petrol from all price controls, but the retail rates have not moved in line with the cost as high inflation forced the oil companies to seek "advice" from the parent Oil Ministry before revising rates.
Pushing for the hike, oil companies had said they were losing Rs 1.50 per litre on petrol and after including local levies, the desired increase in retail prices was Rs 1.82 per litre.
(With PTI inputs)