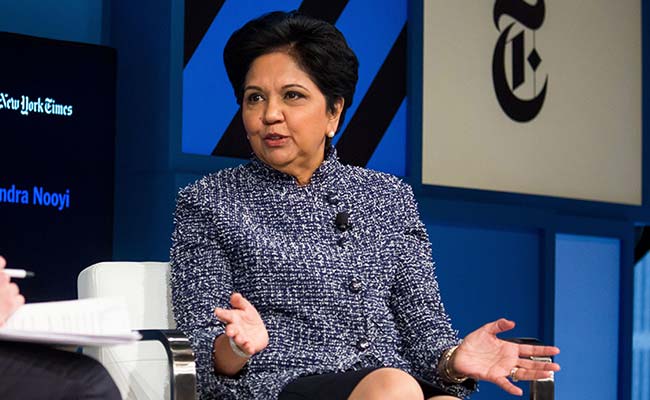 Highlights
Donald Trump calls Indra Nooyi one of the "pioneering CEOs"
She is the only Indian-American in the 19-member President's Forum
Stephen Schwarzman, CEO of investment company Blackstone, heads the forum
New York:
PepsiCo Chairman Indra Nooyi has joined Donald Trump's Strategic and Policy Forum on Wednesday that will assist the President-elect in implementing his economic agenda. Mr Trump's transition team said that forum members will give him their views on government policy, job-creation and productivity "in a frank, non-bureaucratic and non-partisan manner."
Indra Nooyi, 61, is the only Indian-American executive in the 19-member President's Strategic and Policy Forum, which was first announced early this week.
"America has the most innovative and vibrant companies in the world, and the pioneering CEOs joining this Forum today are at the top of their fields," Mr Trump said.
"My administration is going to work together with the private sector to improve the business climate and make it attractive for firms to create new jobs across the United States from Silicon Valley to the heartland," he said.
The forum headed by Stephen Schwarzman, the CEO of the investment company Blackstone also includes Jack Welch, the former CEO of General Electric, and CEOs Elon Musk of SpaceX and Tesla, Uber's Travis Kalanick; Jamie Dimon of Chase and Mary Barra of General Motors.
Ms Nooyi is the head of a multinational firm with an annual revenue of $63 billion that employs 110,000 people. She graduated from Madras Christian College in Chennai and has management degrees from the Indian Institute of Management in Kolkata and Yale University.
Earlier Ms Trump had appointed Shalabh Kumar, the chair of the Republican Hindu Coalition, to the transition finance and the inauguration teams.
The finance team members review prospects for administration positions and makes recommendations to Mr Trump and the inauguration team organises the festivities for his swearing in as president on January 20.
(With inputs from agencies)