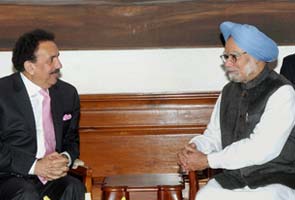 New Delhi:
Pakistani Interior Minister Rehman Malik today said if Prime Minister Manmohan Singh does not visit his country, people will be disappointed.
Mr Malik, who met Dr. Singh today and reminded him of the long-standing invitation to visit Pakistan, said people in the latter's native Chakwal district, in what is now in Pakistan Punjab, were eager to meet him.
He said the Indian prime minister enjoyed respect globally.
"If he (Manmohan Singh) does not come, people will be disappointed," Mr Malik said.
Manmohan Singh was born in Gah village in Chakwal in Punjab, now a part of Pakistan.
Mr Malik, who arrived on Friday on a three-day visit to the country, said he explained to the prime minister the steps taken to bring to book those involved in the 26/11 Mumbai terror attacks.
Sources in the Prime Minister's Office described the meeting as "a courtesy call" and said it was very short.
They said Manmohan Singh thanked Mr Malik for extending him the invitation of Pakistan President Asif Ali Zardari to visit his country.
They said a substantial part of Mr Malik's visit to India was aimed at meeting Home Minister Sushilkumar Shinde and operationalising the liberalised visa agreement.
Mr Malik, who met Mr Shinde on Friday and National Security Advisor Shiv Shankar Menon today, said, he had good meetings with both Indian leaders.
"Overall, very good meetings, very effective message...Whatever trust deficit was there, it was removed," he said.
He credited both Mr Zardari and Dr. Singh for giving a push to boost people-to-people ties between the two countries.