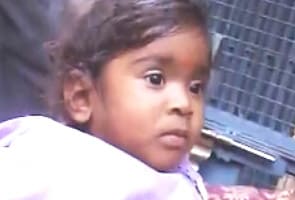 Lucknow:
When a blast shattered the peace of evening prayers in Varanasi last week, a two-year-old girl was spotted alone at the ghats. A stranger rescued her and took her took her in. Later the next day she was handed over to an NGO for abandoned children. And since then, the police has been searching for her parents.
Her father, Nilesh, was tracked down in Balia today, 250 km from Varanasi. The child's mother, Geeta, was spotted in Varanasi this morning.
The police now know the baby's name is Gauri.
Nilesh is a guard with a private security agency and earns less than Rs 3000 a month. The couple, which has two other daughters, rented a small room barely 2 km away from Sheetla Ghat, where the explosion took place. Gauri, the youngest of the three sisters, remains in the care of an NGO for now.
"They used to stay just 2 km away from the ghat where the blast took place...we don't know why they left their daughter behind," said VK Shekhar, a senior policeman handling the case.
What the police is hoping for is some information from the couple that could help in preparing sketches of the suspects who left the explosive on a wall that separates Sheetla ghat from the Dasaswamedh ghat.