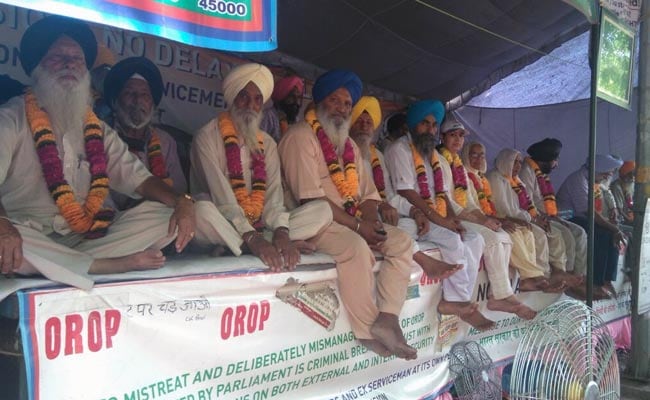 New Delhi:
Delhi High Court was today told that the one-member judicial commission, set up to deal with grievances of ex-servicemen on One Rank One Pension (OROP), was not hearing issues raised by an individual but dealing only with contentions raised by organisations.
The Centre refuted the claims before a bench of justices B D Ahmed and Ashutosh Kumar saying the commission was hearing the grievances raised before it not only by organisations but by individuals also.
The bench was hearing a plea seeking directions to Ministry of Defence and the commission, headed by Justice (Retired) L Narasimha Reddy, "to give an effective public hearing to those affected or aggrieved by implementation of OROP".
When the matter came up for hearing, petitioner S P Singh told the bench he had approached the commission with his grievances but was not heard and told that the panel was only hearing the contentions of organisations.
The petitioner also claimed that armed forces officers were sitting with the panel despite the fact that it was a one-member judicial commission.
Central government standing counsel Anurag Ahluwalia refuted the claims of the petitioner saying the commission was also hearing the grievances of individuals and the officers were present to assist the panel.
He also said the petitioner was heard by the panel.
The bench then asked the petitioner to file an affidavit stating that he was not given an opportunity by the commission to put forth his grievances and posted the matter for further hearing on September 28.
The Centre had earlier told the court it has extended by six months the term of the one-member panel on OROP.
The petitioner, who is an ex-serviceman, has said that as per a Ministry letter dated April 13, "Defence Forces pensioners/family pensioners, Defence Pensioners' Associations can submit their suggestions/views on the revised pension as notified, to the MoD, through post or by email within 15 days i.e. by April 29, 2016".
The petitioner had contended that this information was not published in the newspapers and, therefore, people were not informed about it. He had said that the time given to forward the representations was "very short".
The Centre had told the court that date for forwarding suggestions and representations was later extended to May 15.