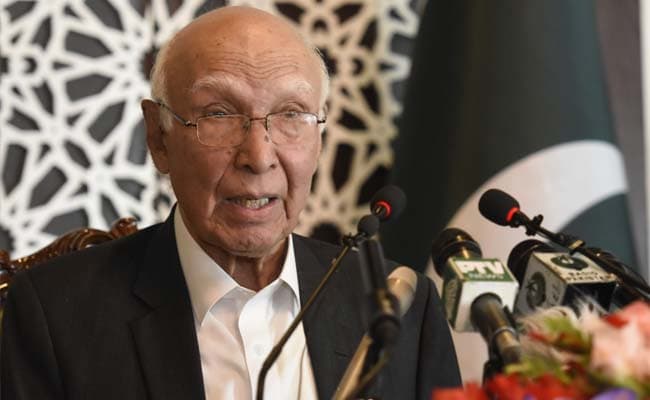 Islamabad:
Pakistan will not enter into any dialogue with India that excludes Kashmir, Pakistani Prime Minister's Advisor on Foreign Affairs Sartaj Aziz said on Monday, asserting that Islamabad wants to settle all contentious issues through "result-oriented" talks.
"Indian belligerent posturing and their desire to conduct dialogue on their own terms i.e. without Kashmir, will never be acceptable," Mr Aziz said.
Mr Aziz said India's refusal to accept the role of the United Nation or good offices of the other leaders for reducing tension between India and Pakistan by resolving the Kashmir issue reflects "Indian desperation".
"Pakistan wants to settle all contentious issues with India, particularly Kashmir, through a sustained and result-oriented dialogue," he said.
He accused India of trying to "divert global attention" by "heating up" the Line of Control and Working Boundary.
India has been clear in its stand that the central issue with Pakistan is terrorism and Islamabad needs to act against terror groups. On Jammu and Kashmir, India maintains that matters of the state are India's internal matter, and talks with Pakistan in this regard can be only to stop terrorism originating from Pakistan and Pakistan-occupied Kashmir.