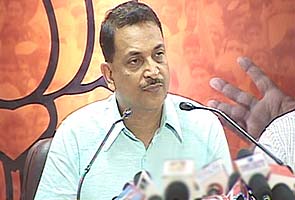 New Delhi:
The world should take action to denuclearise Pakistan, the Bharatiya Janata Party (BJP) said on Tuesday, days after a terror strike at a fortified military base in the port city of Karachi.
"All this establishes Pakistan's vulnerability as far as nuclear weapons are concerned. It is a matter of concern... how is Pakistan going to protect itself?" asked BJP spokesperson Rajiv Pratap Rudy.
"It is time imminent action is taken to denuclearise Pakistan. There should be a world call to denuclearise Pakistan," Rudy told reporters here. He added that there was 'jihadisation' of Pakistan's army which was dangerous for the whole world.
"There is fullfledged jihadisation of Pakistan's army, which is not only a matter of concern for India and Southeast Asia but for the world," he said.
According to Rudy, there was "urgent need to sanitise Pakistan for world peace".
Terrorists struck at a heavily guarded military base Sunday night and destroyed two surveillance aircraft. The 15-hour siege ended Monday afternoon after all the terrorists were killed. Ten security personnel died in the audacious attack.