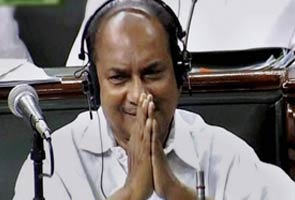 New Delhi:
With the government under attack for its response to the deadly ambush of five soldiers in Kashmir, Defence Minister AK Antony today indicted Pakistan's army for the attack in a new statement to parliament.
The minister said that "specialist troops" of the Pakistani Army crossed the Line of Control into Indian territory and killed the five Indians. A sixth was seriously injured. "We all know nothing happens from Pakistan side of the Line of Control without support, assistance, facilitation and often, direct involvement of the Pakistan Army," the minister said.
In a strong warning, he said, "Our restraint should not be taken for granted; nor should the capacity of our Armed Forces..." (
Read full text of AK Antony's statement in Lok Sabha
)
Leader of the Opposition Sushma Swaraj said she welcomes his new statement, suggesting an end to the huge stand-off between her party and the government over Mr Antony's original assessment of how the Indians were killed.
The government has not yet officially indicated whether it will change plans for a meeting in New York next month between Dr Manmohan Singh and his Pakistani counterpart, Nawaz Sharif. But sources say it cannot be business as usual and Pakistan needs to get its act together first.
The opposition had demanded first an apology and then a revised statement from Mr Antony, who on Tuesday, stopped short of blaming the Pakistani army and attributed the assault to "men in Pakistani army uniforms."
(Read: Defence Minister's statement on Tuesday)
He was contradicted by his own ministry, which issued a strongly-worded statement directly accusing Pakistani soldiers of taking part in the ambush. (
Read Defence Ministry statement
)
But the ministry later retracted its statement and said Mr Antony's account represented the official record of what had happened on the border. (
Read: Defence Ministry retracts statement
)
The opposition said that the minister had "given Pakistan a clean chit" and had forced the army to censor facts. Mr Antony said his new assessment is based on inputs from Army Chief General Bikram Singh who visited Kashmir yesterday.