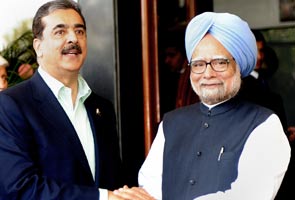 Islamabad:
Asserting that Pakistan and India cannot afford another war, Prime Minister Yousaf Raza Gilani said his Indian counterpart Manmohan Singh is a "sensible and sane" person who wants the two countries to resolve their important issues.
Gilani made the remarks during an interaction with senior government officials participating in the National Management Course.
Speaking highly of the Indian Prime Minister's intentions to have good relations with Pakistan, Gilani said Singh had said several times during their meetings that he wanted to do "something really positive" for both countries.
He said Singh, who hailed from Punjab, was highly desirous of resolving important issues, including Kashmir, Siachen and Sir Creek.
Singh had shown a commitment to improve relations between the South Asian neighbours and said the Kashmir issue can be resolved diplomatically, he said.
Singh had also said several times during their meetings that he wanted to fight the common enemies like poverty, hunger and unemployment, Gilani said.
Gilani noted that he had officially met Singh four times - in Colombo in 2008, in Sharm-el-Sheikh in 2009, in Bhutan in 2010 and at Mohali in India last month.
He said they had also met unofficially on several occasions.
Speaking about the wave of terrorism in Pakistan, Gilani said terrorists were getting their "instructions from a foreign source".