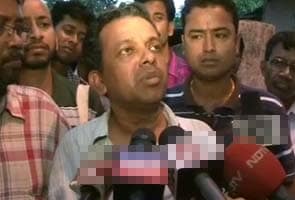 Kolkata:
A Kolkata professor, Ambikesh Mahapatra, learnt the hard way that posting anti-Mamata-Banerjee cartoons on social networking sites can mean big trouble in West Bengal. The professor was assaulted last night, allegedly by Trinamool Congress workers, and was arrested by the police soon after. He was released on bail, but there is outrage in Kolkata and across the Web.
The chemistry professor at the prestigious Jadavpur University was arrested on charges of eve-teasing (Section 509 of the IPC), defamation (Section 500 of the IPC), humiliating a woman (Section 114 of the IPC) and causing offence using a computer (Section 66 A (b) of the IT Act).
Last night, when Professor Mahapatra was returning to his residence in Garia, a group of people, allegedly Trinamool activists attacked him and beat him up badly. Then the police arrived at his door and arrested him. Professor Mahapatra was later produced in an Alipore court.
At the Jadhavpur University professors called an emergency meeting and angry students plastered the walls with copies of the cartoon that had so offended the police. It shows Mamata Banerjee along with now Railway Minister Mukul Ray planning how to get rid of party MP and Mr Ray's predecessor in the Rail Ministry, Dinesh Trivedi.
Mr Mahapatra had shared the cartoon with a few of his friends. Within hours it was being shared across social networking websites with many also slamming Mamata Banerjee on Twitter for the professor's arrest.
Author Taslima Nasreen tweeted, "Shame! Shame! A professor is arrested over a cartoon in Kolkata. It's an extreme violation of freedom of expression!"
"The internet police have started their work. Professor arrested for sending out Mamata cartoon," Anamika tweeted.
The CPM, which was ousted by Mamata Banerjee last year after 34 years of ruling West Bengal, has slammed the CM. "Well, this is a clear assault on the democratic right or freedom of expression. She (Mamata Banerjee) decides on what people should read in library, tomorrow she will tell us what to think. Therefore, this is very much like what happened in Emergency. People of Bengal are experiencing what she means as 'change'. Many people make cartoons or ghastly expressions against the Left, but that's a person's expression. But she cannot tolerate a single word of criticism," said CPM leader Brinda Karat.
Last week, the state government was embroiled in a controversy when a committee set up by the Trinamool government to restructure the syllabus for higher secondary students reportedly recommended a much reduced emphasis on Marx and Engels in history textbooks. Amidst criticism, Ms Banerjee later said her government did not consider Marx or Lenin as "untouchables".
In another controversial move, the state government had instructed 2,500 public libraries on what newspapers they can stock. Several leading papers including the Ananda Bazar Patrika and all English dailies were dropped. The Left's Sitaram Yechury had termed the decision "worse than censorship". Even those who visited libraries criticised the move.
Bowing to pressure, the Mamata Banerjee government added one English daily to the list of newspapers state-run libraries may keep.