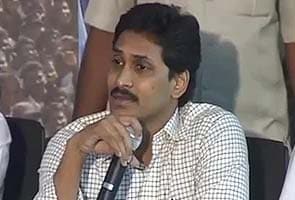 New Delhi:
Politician Jagan Mohan Reddy says he will begin an indefinite fast tomorrow to protest against the centre's decision to divide Andhra Pradesh by carving out one of its three regions, Telangana, as a new state.
"Just see the plight of my state," Mr Reddy said, on a day when huge protests were held in the two regions of Coastal Andhra and Rayalaseema, whose 13 districts will comprise Andhra Pradesh according to the new blueprint approved by the cabinet last evening.
"Is it justifiable to split the state without an assembly resolution? What kind of democracy are we living in when people intentionally choose to ignore the assembly?" he asked.
Hyderabad, the prosperous IT city, will be a shared capital for 10 years after which it will belong to Telangana, which factors heavily in the concerns of those fighting the new state.
"When an engineering student graduates, where will he go to get a job?" asked Mr Reddy, referencing the fear factor that Telangana will make Hyderabad jobs off-limits for outsiders.
The 40-year-old leader asked why the decision on Telangana cannot be reversed; after all, he said, the government has just withdrawn a controversial executive order that allowed MPs convicted in criminal cases to remain in office.
Mr Reddy heads the YSR Congress, founded and named after his father and former chief minister YSR Reddy, who died in a helicopter crash in 2009. When he was not chosen to replace his father as chief minister, Mr Reddy exited the Congress. He was recently released on bail after spending more than a year in prison on corruption charges.
Like other leaders who have censured the centre for dividing Andhra Pradesh, Mr Reddy alleged that the government's decision is motivated entirely by the approaching national elections. After the split, Telangana and Andhra Pradesh will have 21 parliamentary seats each. The Congress is likely to be rewarded heavily in Telangana for making it a state. The bifurcation is also expected to help the party to check the potential of Mr Reddy and other parties.