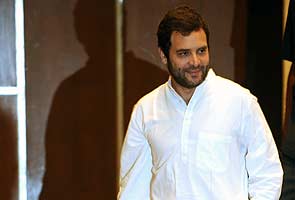 New Delhi:
By publicly denouncing an ordinance to protect convicted MPs and MLAs as "complete nonsense," Rahul Gandhi today vetoed a decision that had been cleared by Prime Minister Manmohan Singh as well as his mother and Congress president Sonia Gandhi six days ago.
"I personally think the ordinance is complete nonsense and it should be torn up. What the government is trying to do on the ordinance is wrong," said the 43-year-old Congress number 2, immediately sparking speculation that he disagreed with both the PM and Sonia Gandhi on the ordinance.
As the PM's camp fought back against the politically embarrassing comments, sources close to the PM said the decision to bring the ordinance was taken and endorsed at a key party meet.
Sonia Gandhi was part of that core group meeting last Saturday, September 21, when the party's top leadership cleared the decision to bring an ordinance skirting around the Supreme Court's order disqualifying convicted MPs and MLAs.
The ordinance allows such lawmakers to continue even after conviction, without voting rights or salary. Showing unusual haste, the union cabinet cleared the measure on Tuesday, and sent it to President Pranab Mukherjee on Wednesday.
Veerappa Moily had opposed the Bill at a cabinet meeting in August before it was introduced as an ordinance on Tuesday.
The Prime Minister, Finance Minister P Chidambaram and Home Minister Sushil Kumar Shinde were reportedly in both the core group and cabinet meetings.
Sources say Rahul Gandhi's outburst betrays a "generational shift" within the party, with the younger brigade led by Mr Gandhi distancing themselves from what was largely considered a political decision. It also exposed a lack of communication with Law Minister Kapil Sibal and Congress MP Ajay Maken defending the ordinance till Rahul Gandhi's stunning declaration.
Kapil Sibal refused to say anything after Rahul Gandhi's statement.
"We decided to bring a Bill to amend the Supreme Court order only after a consensus at the all party meeting, even the BJP agreed," Mr Sibal had said earlier. "Since the Bill was not passed in the monsoon session, we had to bring the ordinance so that there was no legal vacuum."