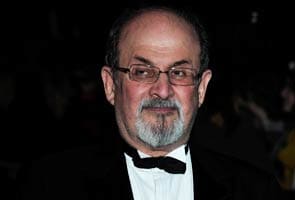 London:
24 years after he shot off an open letter to the then Prime Minister Rajiv Gandhi criticising the ban on
The Satanic Verses
, India-born controversial author Salman Rushdie now admits that his reaction was "arrogant", "angry" and "cheek".
65-year-old Rushdie, whose 633-page memoir titled
Joseph Anton
hit the stands on Tuesday, narrates his life in hiding for over nine years after the controversial book resulted in an Iranian 'fatwa' and world-wide protests against him. He also writes feelingly about his engagement with India.
In the book written in the third-person, Mr Rushdie recalls that Salman Haider, a family friend and the then Deputy High Commissioner of India in London, had called him to formally inform him that
The Satanic Verses
had been banned in India.
Mr Rushdie writes that the ban pained him, more so after his previous book,
Midnight's Children
, had been "so enthusiastically received" in India, which was "a source of great pride."
It made the ban on importing 'The Satanic Verses' in the country "a painful blow."
On his widely-published open letter to Rajiv Gandhi at the time, Mr Rushdie admits that it was arrogant: "This was...not how novelists were supposed to behave: scolding a Prime Minister. This was...arrogant. This was cheek."
The author goes on: "Well, OK, that was arrogant. Angry and injured also, but the arrogance was undeniably there. Very well. So it was.
"He was defending a thing he revered above most things, the art of literature, against a piece of blatant political opportunism. Maybe a little intellectual arrogance was called for."