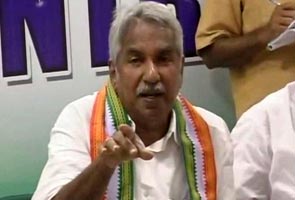 Thiruvananthapuram:
Senior Congress leader Oommen Chandy is all set to become the new Chief Minister of Kerala. Senior party leaders, in a meeting held at the Kerala Pradesh Congress Committee (KPCC) headquarters in Thiruvananthapuram today, unanimously decided on Mr Chandy's name as the leader of the United Democratic Front (UDF) ministry in the state.
The date of Mr Chandy's swearing in will be decided after a meeting of the UDF this evening.
Mr Chandy will reoccupy the chair he lost to Achuthanandan exactly five years ago. But the bigger responsibility for him will be to manage the pressures of a coalition - given the razor-thin majority - with different alliance partners likely to resort to pressure tactics to have their way. The Indian Union Muslim League and Kerala Congress (Mani) have contributed significantly to the UDF's victory.
Kerala witnessed one of the closest-fought assembly elections. The Congress-led UDF just managed to edge past the ruling CPM-led Left Democratic Front (LDF) by four seats, and ended with 72 in the 140-seat Assembly.
Outgoing Chief Minister VS Achuthanandan handed in his resignation to the Governor in Thiruvanthapuram on Saturday. He alleged that certain caste and religious groups conspired with the UDF to ensure the Left's defeat.