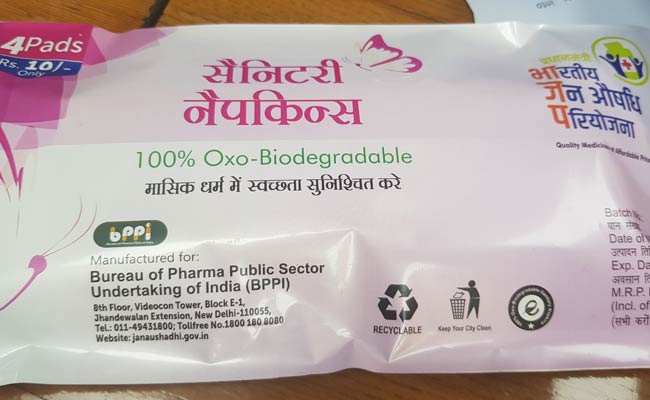 NEW DELHI:
The government launched a biodegradable sanitary pad '
Suvidha
' on Thursday to mark International Women's Day. The oxo-biodegradable sanitary pads priced at Rs 2.50 per pad will be available at Pradhan Mantri Bhartiya Janaushadhi centres. The sanitary pads will be available in packs of four across 3200 centres and each pack will be priced at Rs 10. The biodegradable pad will ensure '
Swachhta, Swasthya and Suvidha
' for the underprivileged women.
Speaking at the launch, Union Minister for Chemicals & Fertilizers and Parliamentary Affairs Ananth Kumar said, 'this affordable sanitary pad will promote hygiene, ease of disposal as well as keep the environment clean'. The
Suvidha
pads will be available at all Janaushadi centres by May 28, 2018 which is also World Menstrual Hygiene Day.
The government is introducing the
Suvidha
pads at a time when there has been an increasing demand from women across the country to waive off the 12% GST on sanitary pads. For 42- year-old Santosh Devi, a domestic worker, this comes as a relief. 'The family I work with is particular about waste management. Considering, I spend ten hours a day at their place, these affordable and more importantly biodegradable pads are an added advantage', she says.
However, International Women's day is aimed at promoting women empowerment but at the launch of sanitary pads, there was not one single woman at the podium. After the 30 minutes launch event the ministers and bureaucrats - all male stood up for the photo-op but no women, those who will benefit from this were present.
According to National Family Health Survey- 4 (2015-2016), 62% young women in the country in the age group 15 to 24 years still use cloth for menstrual protection. NFHS- 4 revealed that 42 % young women in the country used sanitary pads while 16% used locally prepared pads. Majority of women in rural areas did not use a hygienic method of menstrual protection, indicating that only 48% of those surveyed in rural India used sanitary napkins during their menstrual cycle as against 78% in urban parts of the country.