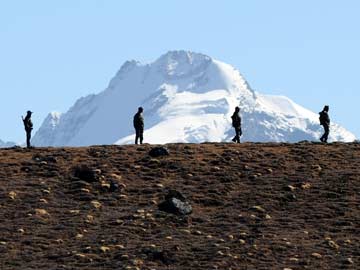 New Delhi:
The fresh transgression by the Chinese People's Liberation Army in Ladakh's Chumur that began on Thursday morning -- hours before Chinese President Xi Jinping landed in India -- tuned grave by late night. In terms of numbers, this is the third. One other has been on at Chumur, and one in Demchok. But going by the scale, this is the worst Chinese transgression in years.
Late night reports said the face-off at Chumur had got worse, with 1000 Chinese troops entering 4-5 km inside the Indian territory. India has rushed in reinforcements. In the morning, 100 Chinese soldiers had joined the existing 300.
The fresh transgression had come as a surprise to the Indian troops too, who had been aware of the other two incidents, which had been on for a week. Forty personnel of the Chinese army are camping out at Demchok.(Read:
Ahead of Chinese President's Visit, A Fresh Transgression by China in Ladakh
)
Efforts to resolve the transgressions have so far proved fruitless.
Two flag meetings between India and China on Thursday - one in the morning and one in the evening - remained inconclusive.
A marathon 12-hour meeting on Monday was equally fruitless. The border issue is to be one of the key topics of discussion between Mr Xi and Prime Minister Narendra Modi.
The stand-off started almost a week ago at Chumur, which stands at the intersection of the international border and the Line of Actual Control, the de facto border between the two nations. The Chinese soldiers had brought in in heavy construction equipment and a large labour force to try and build a road up to the border. (Read:
Chinese Troops Enter Ladakh With 'This is Our Territory' Flags: Sources
)
India objected strongly, sending troops as close as possible to the disputed site. After five days of deadlock, China sought a flag meeting -- which took place on Monday but remained inconclusive. (Read:
Chinese Graziers Pitched Tents in Ladakh in Fresh Incursion Attempt: Sources
)
Perhaps to divert focus from Chumur, the Chinese side objected to an irrigation canal being built at Demchock about 80 km away and sent hundreds of civilians to protest. The standoff at Demchock, unusually, is now between Indian and Chinese civilians.