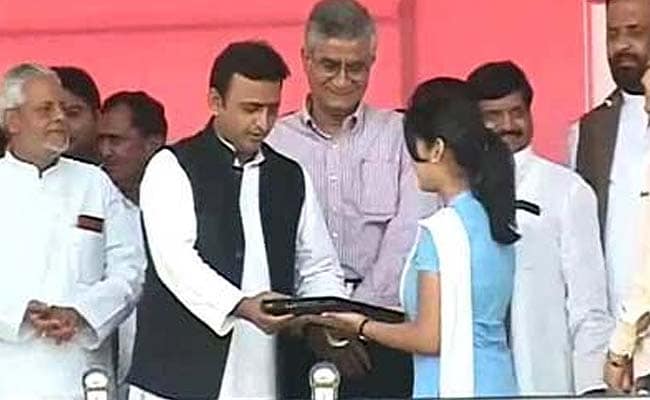 Lucknow:
Samajwadi Party chief Mulayam Singh on Monday blamed a pet project of his son, Chief Minister Akhilesh Yadav, for the party's poor show in the Lok Sabha elections.
"I was against laptops. If we lost the elections, it is due to them. Modi put his face and speeches in them," Mr Yadav said at the party's national convention for women.
The Akhilesh Yadav government has distributed over 15 lakh laptops so far under the free laptop scheme for students.
But during the Lok Sabha elections, some of the BJP supporters were found using those laptops at the media centres set up for Narendra Modi's rallies. Also, the students could follow news and tweets by the BJP on the government distributed laptops, he said.
"The laptops were showing Modi's speech, his photos. All the young people were watching these. I asked them why they were distributing these, they could cause trouble," Mr Yadav said.
The party refused to respond to Mr Yadav's statement.
The Chief Minister has always counted the free laptop scheme for students as an achievement.
Last year, speaking at a function to distribute laptops, he spoke of bridging the digital divide through the scheme. "Nobody expected the socialists to talk about English and computers, but we have bridged the digital divide," he said.
This isn't the first time the Chief Minister has had to face his father's public criticism. Earlier this year, Mr Yadav had pulled up his son's government for the deteriorating law and order situation as well.