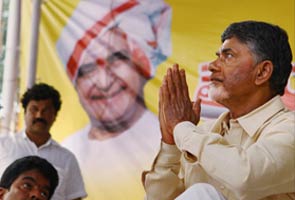 New Delhi:
Politician Chandrababu Naidu, who is on an indefinite fast to protest against the division of Andhra Pradesh for a separate Telangana state, has taken a complete U-turn from his stand five years ago, claims the ruling Congress.
The party today alleged that Chandrababu Naidu, who heads the regional Telugu Desam Party (TDP), had supported the creation of Telangana in a letter to the Centre in 2008.
The Congress circulated Mr Naidu's letter dated October 18, 2008, to then Foreign Minister Pranab Mukherjee, in which he says a core committee of senior TDP leaders had taken the views of people and backed Telangana.
"The politburo of TDP has discussed thoroughly on the conclusions arrived at by the core committee and agreed with its recommendations in favour of a separate Telangana state," the letter quotes Mr Naidu as saying.
On Monday, the TDP leader had been ambivalent on whether Telangana deserves statehood. He told NDTV, "In those circumstances we had supported Telangana but now the government hasn't followed proper procedure - it took a decision - there is no consensus within the Congress."
The Congress also says YSR Congress chief Jagan Mohan Reddy, also on a protest fast, had said in a letter to Home Minister Sushil Kumar Shinde last year that, "We respect the sentiments of the people of Telangana....All that we request from you is a solution acceptable to all without injustice to anyone."
Jagan, who broke away from the Congress to lead the breakaway YSR Congress after the death of his father YSR Reddy in 2009, sharpened his stand after the seething anger and protests in the two other parts of Andhra Pradesh - Coastal Andhra and Rayalaseema collectively known as Seemandhra.
The waffling by these parties reflects the dilemma that Telangana represents for many parties - it is politically strategic and will elect 17 parliamentarians once it is a state; on the other hand, leaders from the non-Telangana areas of Andhra Pradesh say voters will not forgive them for ceding the separation of the financially robust region.