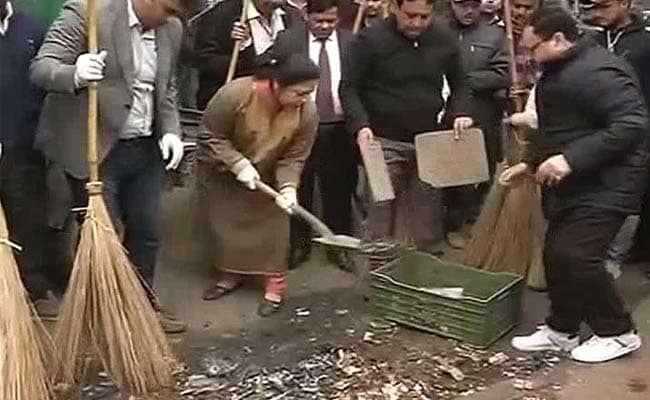 New Delhi:
The bureaucrat leading Prime Minister Narendra Modi's "Swachh Bharat" or Clean India mission has quit abruptly, even before the project could complete a year. Vijaylakshmi Joshi, a Gujarat cadre officer, has taken voluntary retirement citing "personal reasons".
"She applied for voluntary retirement on July 14 and asked to be released on October 31, citing personal bereavement," said Frank Naronha, a senior government spokesperson.
Ms Joshi, a 1980-batch Indian Administrative Service officer, was in charge of the Swachh Bharat campaign that was launched last year with massive fanfare on Mahatma Gandhi's birth anniversary on October 2. At the launch, PM Modi took a broom to a central road in Delhi and tagged nine celebrities, urging them to carry the work forward. Months later, critics said that photo-ops featuring VIPs swinging brooms before cameras were more visible than any signs of improvement on the ground. For example, some 80 lakh new toilets have been built across India but many of them remain unused because they don't have water.
Some reports suggest that the government was unhappy with the progress of a project so close to the PM's heart. Others say Ms Joshi, who had three more years in service, wanted to join her husband, who recently took premature retirement to join a foreign NGO.
Minister Birender Singh has reportedly forwarded her resignation to the Cabinet Secretariat.
Earlier this week, another senior officer was shown the door as the government appointed a new Union Home Secretary for the second time in seven months. LC Goyal's exit was also because of voluntary retirement over personal reasons; he was replaced by Rajeev Mehrishi, who was reportedly handpicked for the job just hours before he was to retire.