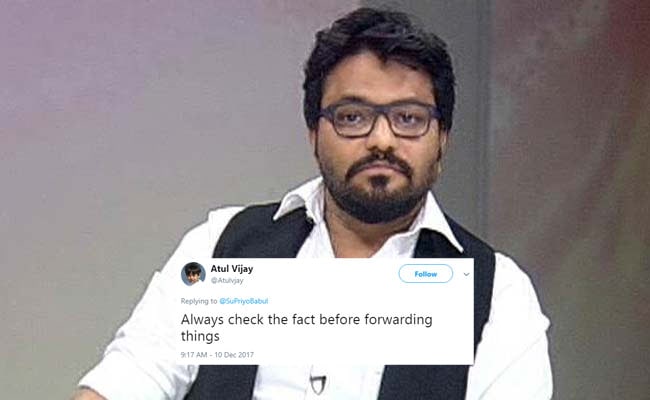 Kolkata:
Amid criticism over violence in his parliamentary constituency Asansol, Union minister Babul Supriyo has said that he had offered to resign and quit politics but was stopped by Prime Minister Narendra Modi.
The minister of state for heavy industries said he had met the prime minister and offered to resign, but PM Modi stopped him and asked him to carry on his "fight".
"You may be surprised to know that after two dirty incidents in Asansol/Bengal, I had met our Hon'ble PM resigning as a Minister to quit Politics & Power for good only to be inspired back by our Hon'ble PM, a man who works 24/7/365 days for his country. Don't Quit-Fight he told me," Mr Supriyo said in a tweet on April 1.
The BJP leader was stopped by the police from entering the Asansol-Raniganj area last week. A scuffle had ensued between BJP supporters and the police when he tried to enter Asansol, his Lok Sabha constituency.
West Bengal Parliamentary Affairs Minister Partha Chatterjee had accused the BJP of trying to destroy the peace and communal harmony in the state.
"Having to face inner questions of whether politics is indeed a place I need to be. And, I confess that at times I really find it hard to convince myself to continue. How can a constitutional entity like the chief minister be so uncouth & desperate to win elections with unfair means?" he had tweeted.
Meanwhile, the Union minister, in a series of tweets, thanked PM Modi for supporting him.
"If today I am fighting all this Muck of falsehood & politics of hate in WB, it is thanks to our Hon'ble PM who told me how we must triumph against all this dirty noise by continuing to fight with a goal in sight that of Development for ALL, something he did in Gujarat&HOW," Mr Supriyo said.
A person was killed and two police officers were severely injured when clashes broke out between two groups over a Ram Navami procession in the Raniganj area of West Bengal's Bardhaman district.