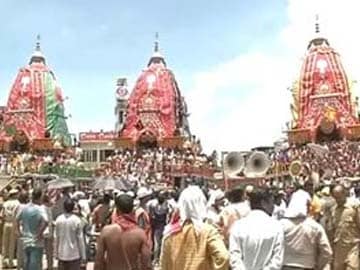 Bhubaneswar:
The Odisha government on Saturday decided to ensure security of seer Swami Nischalananda Saraswati in the backdrop of a face-off between Daitapati priests and Shankaracharya of Puri over the issue of devotees climbing chariots during Lord Jagannath's Rath Yatra.
"The director general of police (DGP) has been asked to make special security arrangement for Shankaracharya when he pays 'darshan' to deities on chariots," special secretary, home department, Lalit Das told reporters in Bhubaneswar on Saturday on the eve of Rath Yatra in Puri.
The government's action came after Govardhan Peeth sought protection for Saraswati, who is provided Z plus security, in view of the ongoing dispute with Daitapatis.
When Shankaracharya sought a ban on the ongoing practice of allowing devotees to climb the chariots and touching the deities during rath yatra, Daitapati priests, who have specific rituals on chariots, have opposed it.They have expressed displeasure over the ban put by the state government as per suggestions of Shankaracharya.
The daitapati priests argued that as there was no mention of any rituals to be performed by Shankaracharya on chariots in the record of rights, he should also not climb like common devotees. However, as per the tradition, the Gajapati king of Puri only comes to perform 'Chhera pahanra' (ceremonial sweeping of chariots) on chariots only after Shankaracharya pays 'darshan' of the trinity.
"We respect the seer and will allow him onto the chariots. But he should not take his disciples along with him as he had been doing" said Ramakrushna Dasmohapatra, president of Daitapati Nijog.
Meanwhile, the state government agreed to fulfill demand of Daitapati priests who demanded compensation for the loss they would incur due to restriction on pilgrims' access to chariots during Rath Yatra.
"The priests raised the compensation issue, but did not specify the amount. The state government should discuss the issue after the end of Rath Yatra," festival's special officer Suresh Mohapatra said.
While restricting the number of people on chariots, the temple administration has decided to keep the number of "Ghantuas" (who beat cymbals) within 42.