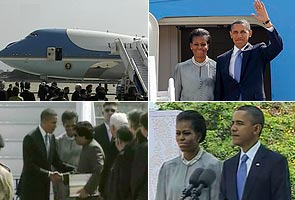 Mumbai:
US President Barack Obama is on a four day presidential visit to India, his longest overseas visit as the President. The highlights of his first day here are:
US President Barack Obama lands at the Mumbai Airport
Air Force One touches down at 12:50 pm
Barack and Michelle Obama greeted by Maharashtra CM Ashok Chavan, Minister-in-waiting Salman Khursheed
Ashok Chavan gives Obama a coffee table book on Maharashtra
President and First Lady flown to a Indian Naval base in Colaba in Marine One (helicopter)
Obamas drive to Taj Hotel from Colaba
Obamas pay their homage at the Tree of Life, the 26/11 memorial at Taj, at 1:30 pm
President, First Lady meet 26/11 survivors
My stay at Taj is powerful message against terror, says Obama
Obamas visit Gandhi museum at Mani Bhavan in Mumbai
Gandhi, a hero not just to India but to the world: Obama
Obama addresses India Inc
Obama ends ban on hi-tech export to India's Indian Space Research Organisation (ISRO), Defence research and Development Organisation (DRDO), Bharat Dynamics Limited (BDL)
Twenty deals worth $10 billion signed between India, US
The deals will create 50,000 jobs in America: Obama
Economic relation between US, India is of enormous potential: Obama
Michelle visits Mumbai University, dances to 'Rang de Basanti'
Follow NDTV for latest election news and live coverage of assembly elections 2019 in Maharashtra and Haryana.
Subscribe to our YouTube channel, like us on Facebook or follow us on Twitter and Instagram for latest news and live news updates.