Highlights
Bhabha Atomic Research Center scientists design water treatment plant
Treated sewage water can be used for gardening and irrigation
2.5 million Indians died due to pollution in 2015, says a study by Lancet
Kalpakkam, Tamil Nadu:
Atomic engineers whose day job is to work on India's atomic reactors are using their spare time to work towards cleaning and treating sewage in a highly efficient manner.
For the first time, nuclear engineers who keep the atomic reactors clean and ensure that microorganisms do not pollute the sanitised, nuclear environment have developed a sewage water treatment plant that is four times cheaper than the conventional ones.
Scientists at the Bhabha Atomic Research Center (BARC) in Tamil Nadu's Kalpakkam have made the compact, modular sewage treatment plant, which they say, occupies six times less space as compared to the regular ones.
The water that comes out from the sewage treatment plant developed by the nuclear engineers is of a quality that it can be readily used for gardening and irrigation purposes.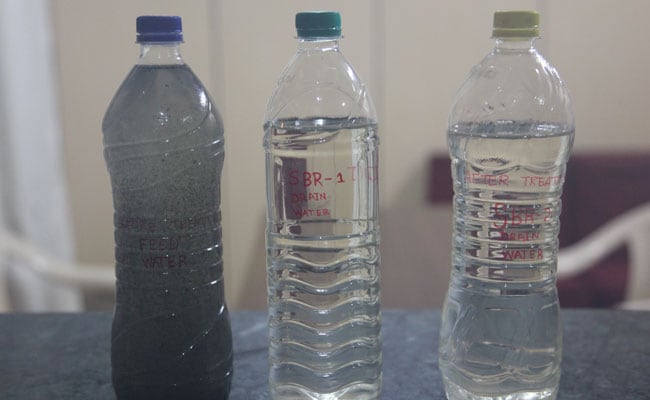 Well-known British medical journal The Lancet recently said that 2.5 million Indians died due to pollution in 2015. In an eye-opening study, the journal described water pollution as the second biggest killer among all forms of pollution in the country.
The plant in Kalpakkam not only treats sewage faster but also more efficiently using some nifty ways in which bacteria that help clean the water are grown as films. These bio-films and living granules help in treatment of the waste water. At present, a pilot scale plant operates in the BARC township in Kalpakkam.
Dr YV Nanacharaiah, a scientist at BARC who worked on the plant said, "This technology relies on the growth of the micro-organisms and it offers better treatment and a reduction in space required for the plant and also reduces operational and capital costs." He said this treatment removes the Chemical Oxygen Demand (COD), nitrogen and phosphorous contents.
In the next phase, the scientists are hoping to scale it up to a plant that can treat sewage for a small municipality.
Nuclear plants that operate for up to 60 years at a stretch use millions of litres of water and the entire piping system is prone to unwanted growth of bacteria, a process called bio-fouling.