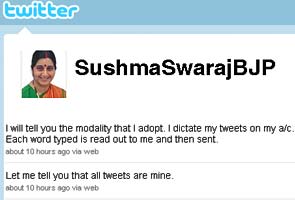 New Delhi:
She joined the Twitter brigade much after many other politicos. And she does not yet have followers in the hundred thousands like they do. But this is probably the most effective use of micro-blogging in Indian politics ever, given that Shashi Tharoor's did not quite go his way.
(Watch: Sushma Swaraj, mistress of tweets)
BJP leader Sushma Swaraj tweeted almost every step across during her Party's
Ekta Yatra
, giving moment-by-moment live action updates. Ever wondered how she maintains the frequency of her tweets? Well, she has a tweet to explain us that too.
At 10.15 pm on Wednesday night, the senior BJP leader tweeted saying, "I will tell you the modality that I adopt. I dictate my tweets on my a/c. Each word typed is read out to me and then sent."
"I adopt this methodology while touring also.The msgs are dictated on phone - typed and read back to me.After my clearance, they r sent to u," she tweeted again.
A few minutes later she continued the 'tweetathon' and said, "Pl be assured that this is my genuine a/c. If some see a ghost, then it is me - Sushma Swaraj."
The latest series of tweets were probably to clear the air as some doubts were raised about her tweets and as to whether they were genuine or fake. "Some even said that they were ghost written," she had tweeted.
Swaraj calls her Twitter page "...my Autobiography - unedited and not published so far." She has already logged 370 tweets, And betwixt all the political agenda some tweets tell her story - 140 characters at a time. Like when she tweeted, "I passed my law and started my practice before Supreme Court of India in 1973." Did you know that?