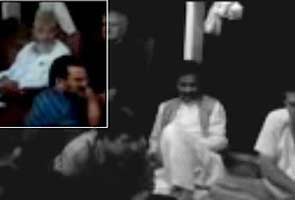 Jammu:
A day after a video showing the Grand Mufti of Jammu and Kashmir enjoying music, an act he termed as forbidden in Islam, went viral, Bashiruddin Ahmad has defended himself saying there were only devotional songs being played at the event.
"They were singing a devotional song written by a poet and there was some music as well. Nothing more than that. Neither did anyone sing nor dance. It was a seminar. Organising a seminar is not a sin. I am firm on my stand. If you think we will allow girls to dance and sing, that's not going to happen," said Bashiruddin Ahmad, Grand Mufti of J&K.
About five months ago the Grand Mufti had called music un-Islamic and issued a fatwa against an all-girl rock band of the valley which eventually forced the three-member group
Pragaash
to disband.
Though the Mufti isn't new to controversies, he's facing fresh criticism with many calling his stand hypocritical.
"Double Speak of Mufti of J&K exposed on issue of Music being Un Islamic. All Religious Fundamentalists are experts of Double Speak (Sic)," tweeted Congress general secretary Digvijaya Singh.
The video which went viral yesterday shows the Grand Mufti in the company of several other persons, including women, at a gathering where a local artist is singing ghazals while playing a harmonium.