Ahmedabad:
In an effort to reach out to young voters and push its social media campaign ahead of the state polls to be held at the end of the year, BJP chief Amit Shah held a townhall in Ahmedabad today, connecting with over 1.5 lakh young men and women from over 300 different locations across the state through video conferencing.
The event was a major poll exercise by the youth wing of the BJP that flooded Twitter and Facebook with promos of the event seeking questions from young voters. At the end of the event, the party claimed three lakh questions were posed through social media. Mr Shah took about two dozen questions live from different centres and also from those who were at the auditorium where he was present.
The subjects ranged from the Patidar agitation over reservation to demonetisation. "What is your opinion about the Patidar agitation?'' asked one participant. "
It's gradually taking a political colour
. Genuine sentiments could be attached to the reservation issues amongst Patidar youths but those who are self-styled leaders have taken it to a different political direction," replied Mr Shah.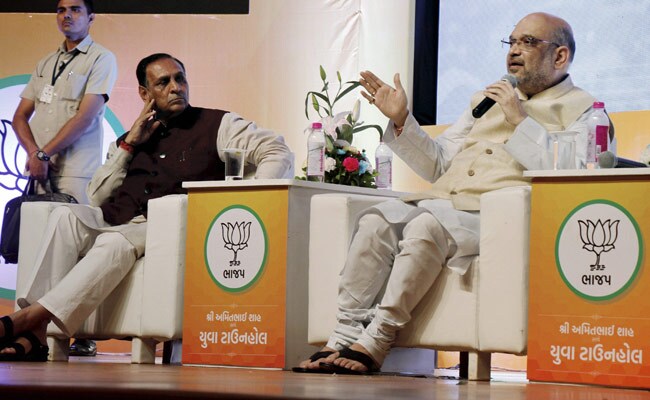 The party president was also posed a tricky question on notes ban, the government's controversial move to scrap 500 and 1,000-rupee notes in an effort to curb corruption. "We have recently read that 99 per cent of the currency is back. The demonetisation exercise has slowed down the economy," asked another youth.
"I was hoping that someone will ask me this question or else the media would have cried foul saying the townhall questions were fixed. But let me assure you that depositing the money back in the banks is not the end of the story. Those deposits which are suspicious will be taxed, penalty will be charged and the money will be available for development in the country," replied Mr Shah.
The BJP chief also took a question on small and medium-sized businesses facing problems because of the new Goods and Services Tax or GST. "I do accept that there are challenges but through dialogue with traders, we will be able to sort out any issue," he said.
Mr Shah also took a swipe at the Congress claiming that its vice president Rahul Gandhi had raised questions over state's development from a venue that was a hallmark of state's development. "The Sabarmati river was full of encroachment and filthy drains that used to flow through it during the time of Congress rule. We converted it into a beautiful riverfront from where he addressed his party workers," he said.