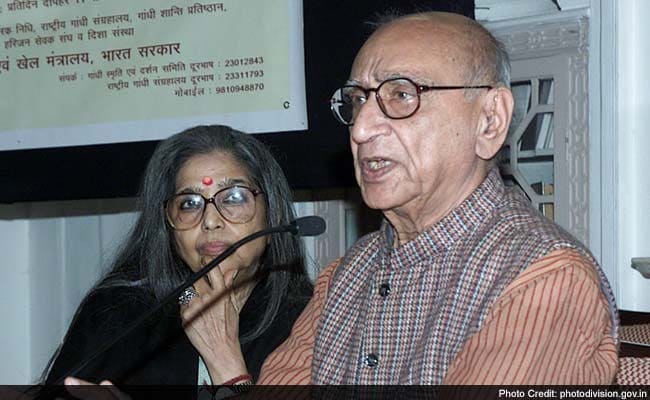 Ahmedabad:
Noted Gandhian and former Chancellor of Gujarat Vidyapith, Narayan Desai, died at a private hospital in Surat today.

90--year-old Desai, son of Mahatma Gandhi's diarist Mahadev Desai, is survived by daughter Sanghmitra and sons Nachiketa and Aflatoon.

"My father Narayan Desai passed away in his sleep in the wee hours today at Mahavir Trauma Centre in Surat city," Mr Desai's elder son Nachiketa Desai said.


His last rites will be performed outside the Sampoorna Kranti Vidyalaya near Vedchhi in Gujarat's Tapi district at 2 pm today, he said, adding that the school was set up by his father who was inspired by Jayprakash Narayan's movement of 'total revolution'.
After slipping into coma on December 10 last year, Mr Desai had shown signs of revival, but was having trouble in routine activities. He was on liquid diet since then.
Narayan Desai was born on December 24, 1924, at Valsad in Gujarat and brought up at Sabarmati Ashram in Ahmedabad.
He imbibed Gandhian ideals of non-violence and truth from his father Mahadev Desai, who was the personal secretary and diarist of Mahatma Gandhi.
Mr Desai was also associated with Vinoba Bhave's Bhoodan (land gift) movement and Jayprakash Narayan's 'total revolution' movement.
He was popular for reciting 'Gandhi-Katha'(narratives on the life of Mahatma Gandhi) across the world which he began in 2004.
Mr Desai served as Gujarat Vidyapith Chancellor since July 23, 2007, but resigned from the post in November last year.