Patna:
Highlights
Nitish Kumar breaks with allies including Lalu Yadav on President
Nitish Kumar backs BJP's candidate for President
Lalu's children in corruption cases, signs of growing ties for Nitish-BJP
By backing the BJP's nominee for the President of India, Bihar Chief Minister Nitish Kumar has become the mega-disruptor of the collated front of opposition parties that was pitched two months ago by him to other opposition leaders like Sonia Gandhi. In his move, Mrs Gandhi's party, the Congress, and others see an outing of Mr Kumar's intent to change the political landscape, both in Bihar and nationally, by shifting allegiance to the BJP.
Mr Kumar's party, the Janata Dal (United) or JDU, said on Wednesday evening that it will support Ram Nath Kovind for President of India. Mr Kovind, 71, is a Dalit and was Governor of Bihar till he won the BJP's nomination. Mr Kumar owes much of his political success to the support of the Dalits - he expanded the category eleven years ago to include more groups and introduced more welfare schemes for them.
"Our
maha-gathbandhan
will not be affected," professed Sharad Yadav, a top leader of Mr Kumar's party, referring to the Grand Alliance that was meant to group anti-BJP parties against Prime Minister Narendra Modi, with the election for President of India as an inception point. In April, it was the Bihar Chief Minister who visited Mrs Gandhi in Delhi and urged her to anchor the anti-BJP bloc. Also present was Lalu Yadav.
Mr Kumar co-governs Bihar with Lalu's party. Lalu's sons Tej Pratap and Tejashwi are Health Minister and Deputy Chief Minister respectively. Mrs Gandhi's party is the third member of the coalition. The collaboration's gears have been grinding in recent months. Lalu Yadav and the Congress were furious with Mr Kumar's effusive praise for PM Modi's sudden decision to ban high-denomination notes in November. As opposition leaders attacked him, Mr Kumar correctly assessed that the move had wide support among the poor, who were, the opposition claimed, reeling from the shortage of currency.
Mr Kumar stood vindicated in March, when Uttar Pradesh voted for the BJP in record numbers, owing to the PM's starring role in its campaign and because of his credibility and popularity as a leader. Another key part of that victory was the BJP's successful appeal to Dalits, who traditionally have not supported the party.
As of this week, Lalu Yadav's wife, Rabri Devi and their children, including Tejashwi who is Deputy Chief Minister, have been charged with illicitly acquiring pricey real estate in several cities in the North including Patna and Delhi. Lalu was convicted of corruption four years ago in a case dating back to when he was Chief Minister in the 90s. The new cases against his children have renewed the family's image as one seeped in venality - it was the alleged looting of Bihar, along with lawlessness, that saw Lalu's party being voted out of power in 2005. Mr Kumar has been in charge of the state ever since.
Given the cases against his family - daughter Misa Bharti, a parliamentarian, was interrogated by tax officials in Delhi on Wednesday- Lalu is worried about being abandoned by Mr Kumar, said sources close to him. The Congress, reduced to a bit player in many states, piggybacks on Mr Kumar and Lalu to govern Bihar and its top leaders believe that Mr Kumar is prepping to break with Lalu, though they refused to comment on record.
Lalu will attend the meeting of opposition leaders in Delhi on Thursday where a decision is likely to be made on whether they will field their own candidate for President. Mr Kumar's party, naturally, has no reason to attend.
Mr Kumar needs 122 legislators to remain in power in Bihar. If he switches from the Congress and Lalu to the BJP, he is safe.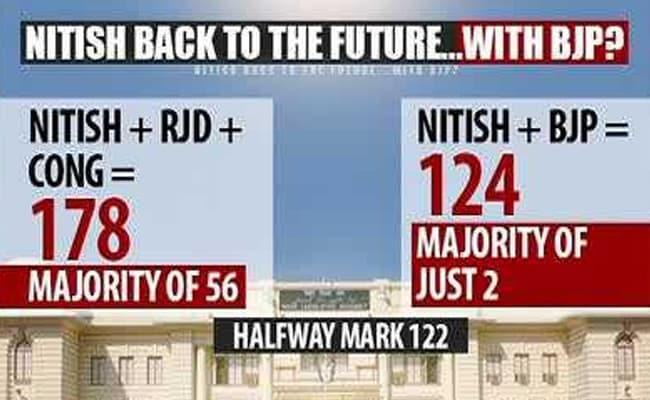 In 2013, Mr Kumar ended a 17-year alliance with the BJP over its decision to pick Mr Modi as its candidate for Prime Minister. In the Modi Wave that swept India a few months later, Mr Kumar won just two of Bihar's 40 parliamentary seats. Mr Modi and his allies won 32.
It was that sizeable embarrassment that impelled Mr Kumar to forge an alliance with then rival Lalu and the Congress. Now, as the general election nears, he is in a position to shuffle his options. Sources close to him say that his concerns about fraternising formally with the BJP are centred mainly on the complete control that the PM and his top aide, BJP chief Amit Shah, exert over the party. Mr Kumar is a political heavyweight; he expects star billing and treatment, is used to getting it from the opposition and has flirted with the ambition of being named its prime ministerial candidate. But like all politicians, he would like to be on the winning side in 2019, say his aides. Hence, the backing of the BJP on Wednesday.
A few months ago, Lalu and his wife cockily suggested that it was time for politicians like them - and Mr Kumar - to step down and make way for younger leaders like their sons. It was one of a series of swipes that the Yadavs made about the Chief Minister. That practice likely stands curbed now.