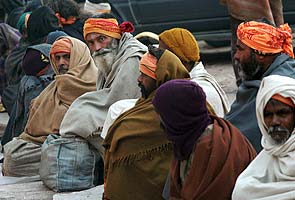 New Delhi:
There is no let-up in the cold wave sweeping north India as mercury on Tuesday plummeted a few notches more with the weather office giving little indication of a change for the better any time soon.
However, the maximum temperature settled two notches above normal at 23.3 degrees Celsius in the national capital which experienced a sunny and pleasant day.
The minimum in Delhi was 6.7 degrees Celsius, two notches below normal and same as Monday, as mercury fell elsewhere in the region.
Kashmir was back grappling with the biting cold which made a return after a day's respite as night temperatures across the Valley dropped.
The week-long spell of dry and intense cold had seen a shift on Sunday night when parts of the Valley received light snowfall which saw temperatures inching upwards.
However, the mercury went below freezing point on Monday night with Srinagar registering a low of -1.6 degrees Celsius.
The minimum recorded in the summer capital the previous night had been -0.4 degrees Celsius.
The minimum temperature in scenic Pahalgam dipped to -7.1 degrees Celsius, down two notches from -5 degrees Celsius the previous night, while the ski resort of Gulmarg shivered at a low of -6.3 degrees Celsius.
Himachal Pradesh, which had little overall relief from the cold, reported a marginal drop in minimum temperatures as well as a slight rise in maximum temperatures in some parts of the state.
Picturesque Manali registered a low of -3.0 degrees, a drop of six degrees from Monday, while Keylong in Lahaul and Spiti district was coldest zone in the state at -9.6 degrees.
The local forecast is for dry weather over the coming 48 hours and rain or snowfall in the higher reaches from January 31 onwards.
Uttar Pradesh, too, is in the grip of intense cold with night temperatures - which rose in Gorakhpur and Faizabad divisions - registering little change elsewhere in the state.
With the MeT office talking about a likelihood of fog in several areas of the state in the coming 48 hours, Najibabad in Bijnore district recorded the lowest temperature in the state at 2.6 degrees Celsius.
The situation was no better in Punjab and Haryana where the cold wave intensified as mercury plunged by up to four degrees below normal at some places.
It was a foggy morning in Patiala, Ludhiana, Amritsar, Karnal, Ambala and Chandigarh which affected normal life.
Karnal, in Haryana, recorded the lowest temperature across the two states at 3.6 degrees Celsius which was four notches below normal.
The weather forecast for the area is partly cloudy skies with no respite from cold for Punjab and Haryana in the coming 24 hours.