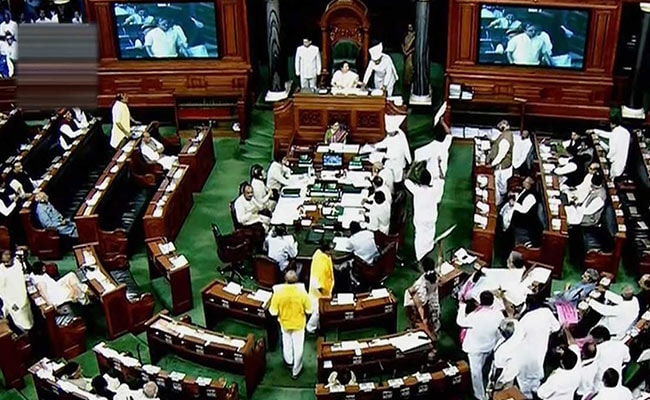 New Delhi:
Leaders of Tamil Nadu's ruling AIADMK, which was at the centre of protests in Lok Sabha that derailed TDP's no-confidence move, today said the party has no intention of supporting the initiative by Andhra Pradesh. The neighbouring state, AIADMK said, has acted against the interests of Tamil Nadu and so should expect no help.
AIADMK leader P Venugopal has told NDTV that they have no interest in the TDP no-confidence move as it would benefit Andhra Pradesh and only wanted the Cauvery Management Board to be set up. The party will continue to raise the issue in parliament "daily till the Board is formed", he said.
The AIADMK stance has put a question mark on the possibility of the no confidence motion brought in this parliament session. Yesterday, Speaker Sumitra Mahajan had made it clear that she could not bring the motion unless there was order in the house, even though she was "duty bound" to do so.
The house has been disrupted continuously since the second half of the budget session started earlier this month. The AIADMK, which was demanding a resolution on the Cauvery water issue in Lok Sabha yesterday, said Andhra Pradesh has been partly responsible for its water woes, building check dams on the Palar river, stopping its flow to Tamil Nadu. Its police killed "innocent Tamil labourers, terming them red-sanders smugglers", a party leader said.
Yesterday, after AIADMK lawmakers repeatedly rushed into the Well of the House, booing and shouting slogans, Speaker Sumitra Mahajan had adjourned the House twice, complaining of "disorder".
The TDP later said the whole issue could have been "stage managed". "I cannot say BJP told the AIADMK to go to the floor of house, since I do not have proof. But the inference is that this is all stage managed," said YS Choudhary, the party's minister in Prime Minister Narendra Modi's government, who stepped down days before the TDP pulled out of NDA.
The no-confidence move had the support of most opposition parties -- including the Congress, Left and the Trinamool Congress - which, despite lacking the numbers to pose any serious challenge, had decided to "send a message" to the government.