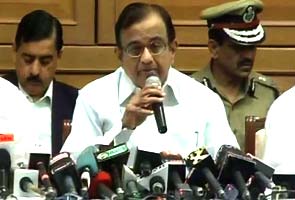 Mumbai:
Home Minister P Chidambaram admitted that there was "no intelligence input to state or central agencies" about the three blasts that struck Mumbai during its rush hour last evening. He accepted that this was "unfortunate" but said the new terror attack was "not an attack on India's commercial capital" and that it cannot be described as an intelligence failure because for 31 months, since 26/11 was unleashed upon Mumbai, the police and the government had managed to keep the city safe till last evening.
A severed head has been found, the minister said at a press conference in Mumbai. He said 17 deaths were confirmed, and that about 130 people were admitted to 13 different hospitals last night. "After a gap of about 31 months, Mumbai has suffered another terror attack. I express my regrets", Mr Chidambaram said at a press conference in Mumbai this morning.
"They (the terrorists) chose the places because of the density of the population and the congestion in those areas", the minister said. "Intelligence is collected every day, every hour. It (blasts) is not a failure of intelligence agencies...who ever has perpetrated the attacks has worked in a very clandestine manner", he said.
The Home Minister refused to speculate on who's responsible for the blasts that took place within 12 minutes at Zaveri Bazaar, Dadar, and Opera House. He said no group has so far claimed responsibility. "The fact that blasts took place within minutes of each other shows it was a coordinated terror attack," Mr Chidambaram stressed. "We have asked the police and investigators not to proceed on presupposition. All those who have the capacity to carry out terror attacks are suspected. All angles will be investigated, all premises will be examined, all leads will be followed," he said.
The Home Minister visited the locations of the three blasts last night. He said forensic evidence has been successfully collected and is being tested now. Later today, he expects to have information on what sort of material was used in the Improvised Explosive Devices (IEDs) that were used. Sources say upto seven IEDs may have been used for the three blasts. The minister said they showed traces of ammonium nitrate and were not triggered by remote control.
"Mr Chidambaram said that the preliminary assessment of investigators who have worked through the night at the three sites is that the Dadar blast was low-intensity; the other two were high-intensity.
He said that while he does not rule out that the blasts may be an attempt to derail the Indo-Pak talks - the Foreign Ministers of both countries will meet in Delhi later this month - it would be irresponsible for either him or the media to speculate on who is to blame. Police sources have said the IEDs used could be similar to those used in the past by terror group Indian Mujahideen.
"We live in the most trouble neighbourhood in the world. Afghanistan-Pakistan in the epicenter of terror. This makes India very vulnerable," Mr Chidambaram said. He also referred to the fact that two members of the Indian Mujahideen were arrested this month by the Maharashtra Police; members of the banned CPI (Maoists) were arrested recently in Pune and Mumbai. "These point to action taken by Maharashtra Police. Whether blasts were in retaliation for action taken, or whether this was caused by another terrorist group will be investigated," the Home Minister said.