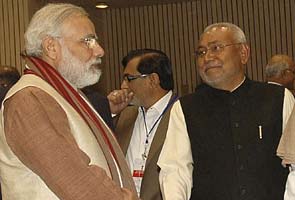 New Delhi:
As it begins its two-day national executive meet in the national capital today, the Janata Dal (United) or JD(U), is gearing up to demand that its ally, the Bharatiya Janata Party or BJP, reveal whether Narendra Modi will be its prime ministerial candidate. Sources close to Nitish Kumar say "There is no acrimony with the BJP... As far as announcement of NDA leader is concerned, how long can one wait?"
But sources in the BJP say that party president Rajnath Singh has spoken to the two power centres in the JD(U), Sharad Yadav and Bihar Chief Minister Nitish Kumar, on the phone. The BJP is optimistic that the JD(U) will not end the relationship just yet.
Mr Modi's re-election for a third time in Gujarat in December has forced even detractors within the party to realise his worth as a vote-getter. But for Mr Kumar, who runs a state in which 15 per cent of the population is Muslim, has said that a prime ministerial candidate must have "secular credentials."
The shadow of the riots in Gujarat in 2002 still haunts Mr Modi. He was in office when Gujarat was ravaged by communal riots, in which around 1200 people were killed, most of the Muslims.
For the JD(U), a divorce from the BJP at this juncture may not be politically astute. In its current alliance, the BJP draws the higher caste votes of Bihar while the JD(U) is popular with Muslims and lower caste voters. A split would only create lot of uncertainty and new political realignment in the state.